Posted by Caron on 30th Nov 2022
Seriously, these baked oysters were soooo good!
Tom LOVES oysters, I mean really really loves oysters and I usually just indulge his habit by going on the drives to find them. In California, this led to some long car drive adventures up to Tomales Bay to Hog Island Oysters or stopping at Marshall General Store and sampling their bbq'd oysters at their roadside stand. Now that we're back home in the Pacific Northwest, we don't have to go quite as far, but still an adventure out to Shelton and Taylor Shellfish or out to Hama Hama on the Hood Canal...
I digress... here's our version of Oysters Casino!
(adapted from The Hog Island Oyster Lover's Cookbook)
Ingredients Needed:
4 slices bacon
1/2 cup unsalted butter (1 stick) softened
1/3 cup chopped shallots
1/4 cup finely chopped red pepper
1/4 cup finely chopped celery
1 tablespoon fresh lemon juice
1 tablespoon horseradish sauce
1/8 tsp. cayenne pepper
1/8 smoked paprika
grated parmesan cheese
2 dozen small oysters on the half shell (shucked)
Rock Salt for baking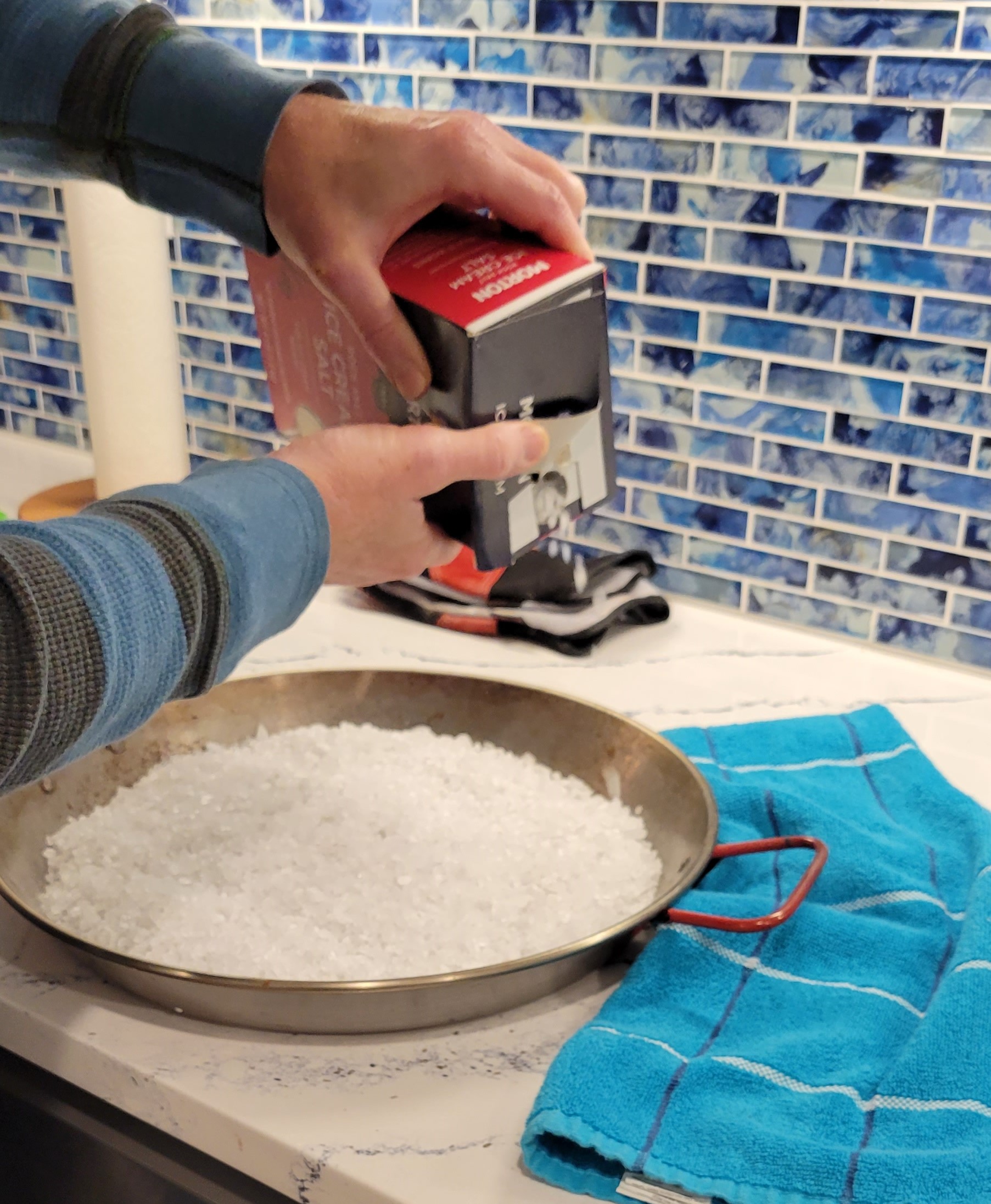 Step 1: Pour Rock Salt into a rimmed baking sheet. Shuck the oysters and carefully nestle them into the salt without spilling their natural juices. Note: We used our Paella Pan to be pretty presentation for the table and to make them easy to grab for a party!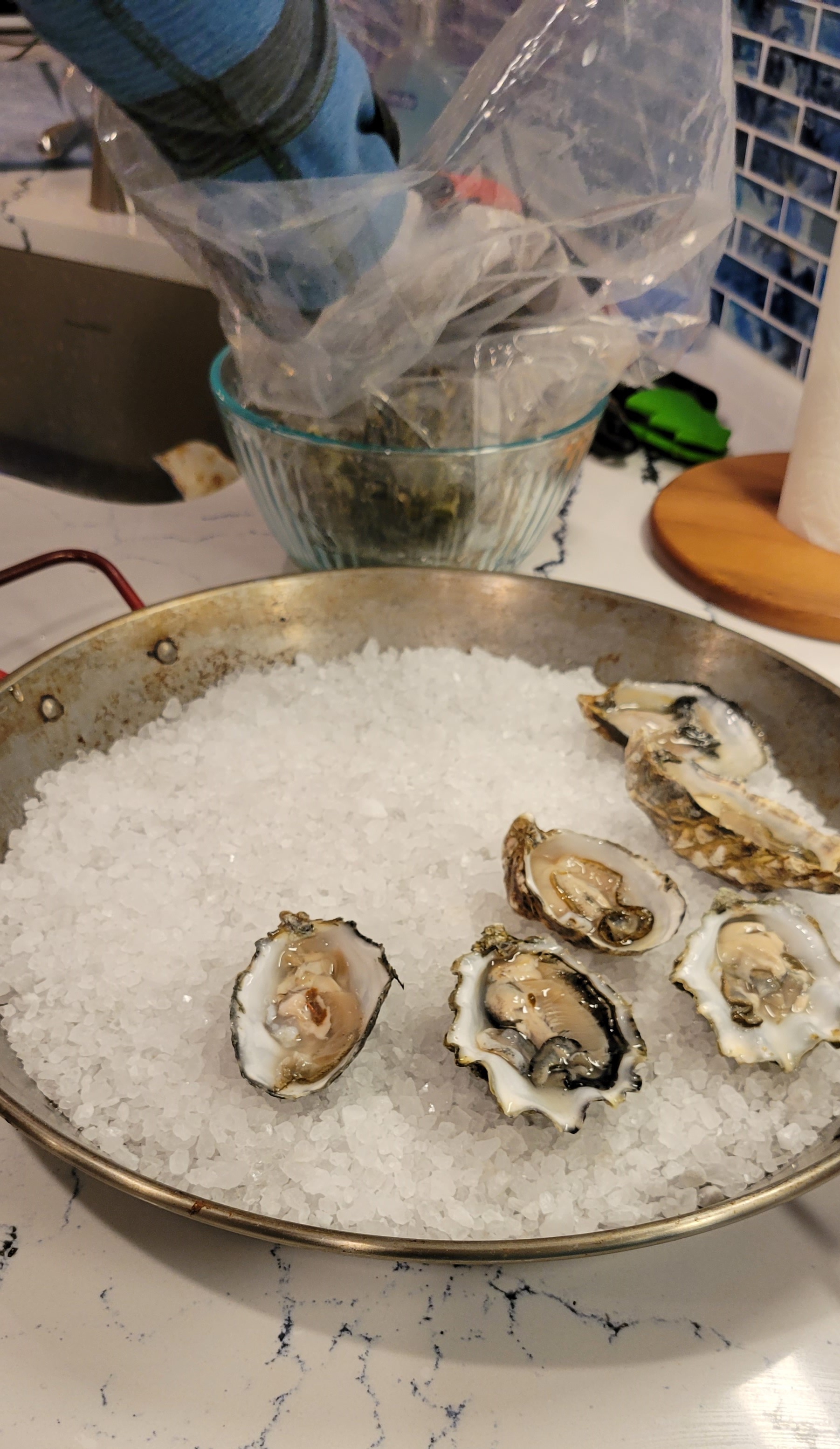 Step 2: Preheat oven to 400 degrees.
Step 3: Cook the bacon until almost crisp. Transfer to paper towels to drain. Then chop up into smaller garnish size pieces
Step 4: In a food processor, combine softened butter, shallots, red pepper, celery, lemon juice, cayenne, paprika and horseradish sauce. Process for 20-30 seconds or until all chopped and well combined.
Step 5: Add 1 teaspoon of the compound butter mixture to each oyster and top with the bacon pieces. Then sprinkle grated parmesan cheese on top.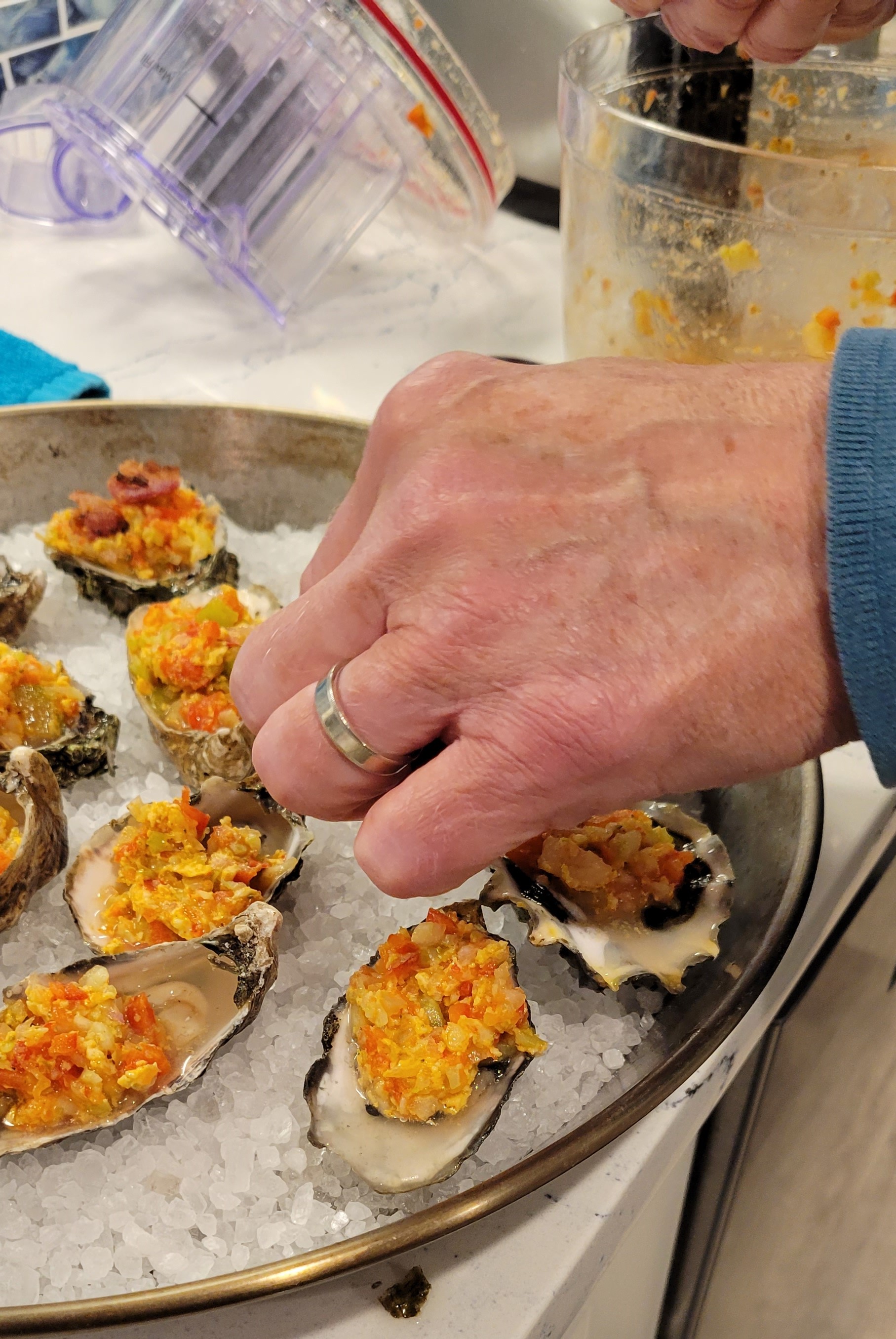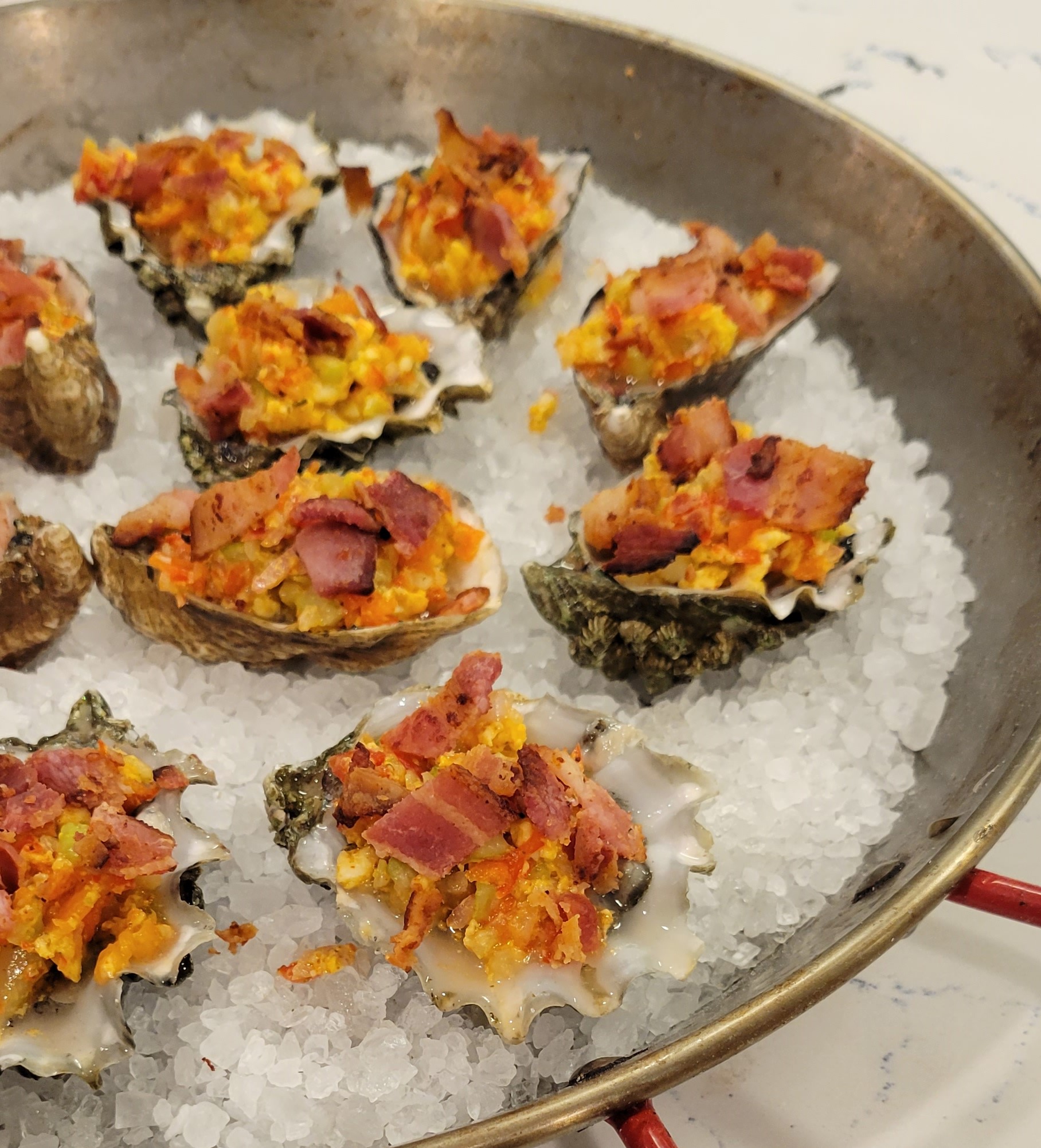 Step 6: Bake the oysters until bubbly, about 15 minutes. Do not overcook!
Step 7: Serve. Perfect as an appetizer at 2-3 per person or as a main dish served with a salad and toasty sourdough bread.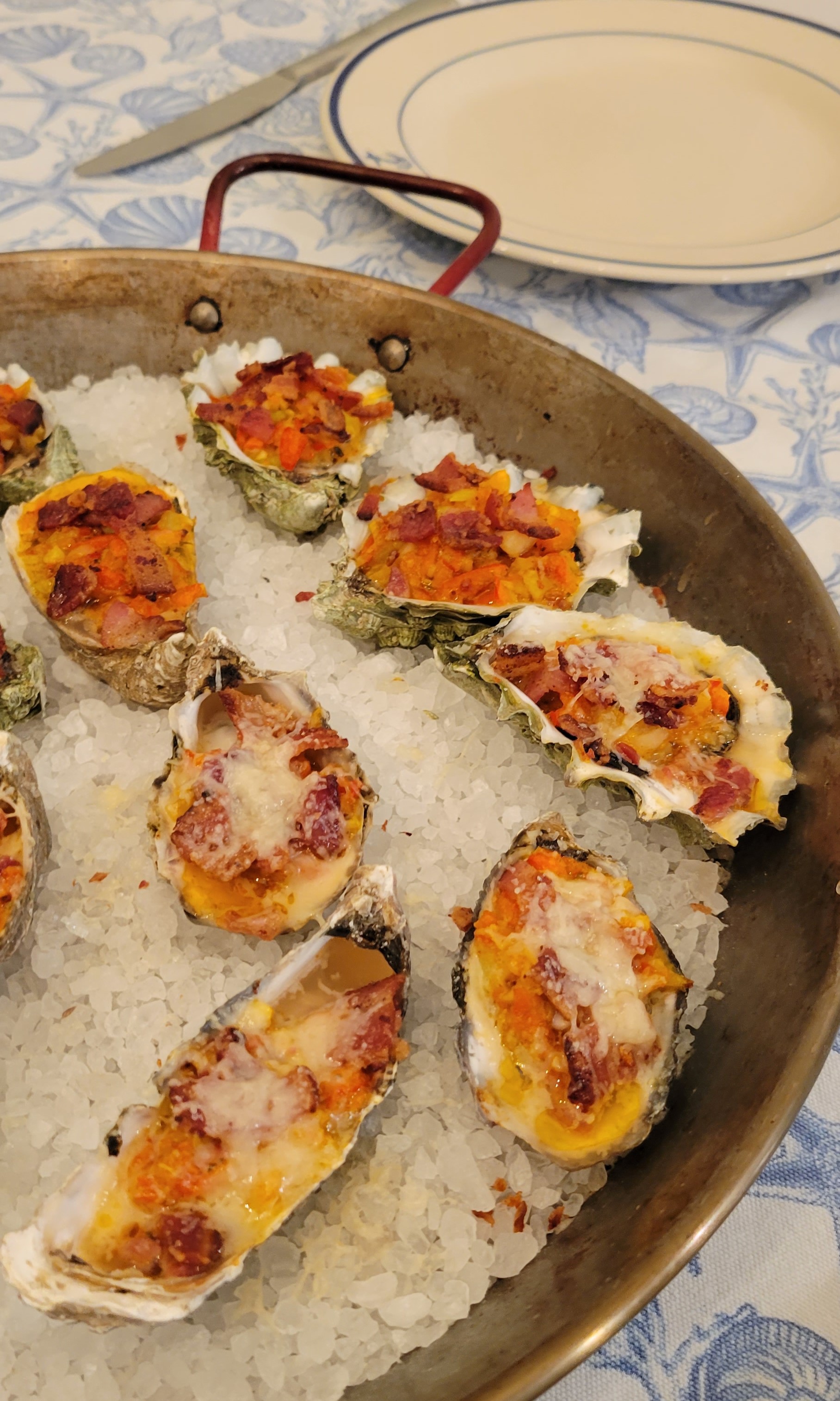 Let's just say that I firmly believe that bacon makes anything edible.... in this case I would probably have eaten these little bite size goodies without the bacon! (and that's saying something)