Caron's Beach House was created to share a passion for distinctive coastal lifestyle, no matter where you live. Step inside, take a deep breath, shake the sand off of your shoes, relax and live at the beach every day of the year! Caron's Beach House is all about creating a home that reflects your unique seaside and island lifestyle experience, offering coastal and nautical home decorating solutions and products for coastal customers who enjoy life on the seashore - East Coast to West Coast and beyond.
Caron's love affair with life at the beach, and everything related to the sea, began many years ago on the Kitsap Peninsula, in Washington State. Lucky girl, her parents bought a 1950's era brick style beach house complete with low-bank waterfront, a rocky shell-covered beach, and the ever-changing views of the Puget Sound. Her coastal decorating style definitely began early! With a beach full of barnacle covered rocks, oyster shells, sea life galore and beach-washed sea glass to discover, Caron was always creating something out of her beach "treasures".
That fascination with living beside the sea continues to this day in the San Francisco Bay Area where Caron and her husband live within steps to crashing ocean waves and long walks in the sand.
Caron and her crew pride themselves on constantly searching nautical home decorating trends, coastal styles and current modern color palettes that will blend seamlessly into a shore home setting. She searches far and wide, attending national gift markets and seeking out unique coastal artisans to bring the best home accents to our customers. She does the curating for you! Everything in our store has been vetted by our crew for style and quality.
Our Caron's Beach House web store carries home decor accents, a large collection of luxury rugs, indoor-outdoor rugs, unique lighting for coastal homes, driftwood and shell style mirrors, countless beach and nautical pillows, an extensive catalog of coastal throw pillows, beach wall art, new coastal bedding, and so much more to complete a beach house look. You never know what we might find to add just the right finishing touch to your home!
One of the best things about living at the beach is inviting friends over to enjoy your little stretch of sandy beach too. It's exactly the reason why Caron's Beach House likes to specialize in fun entertaining serving pieces, table linens, as well as dinnerware and glassware designed for the coast! It's also why Caron enjoys sharing those entertaining ideas and stories in the Caron's Beach House newsletter. Go to any page of the Caron's website, and sign up to start receiving your exclusive savings. Just for joining the Beach Club, you will receive an instant coupon to be used on your first order!
We welcome you to join the conversation - we look forward to sharing our beach stories with you! Here's a few of the places that we can connect...
The Caron's Beach House Decorating Blog - found right on our site!
Everything Coastal: Our blog all about living on the coast
Facebook: The Official Caron's Beach House Facebook Page
Twitter: Current twitter updates
Pinterest: Check out our Pinterest boards, full of decorating, entertaining and travel ideas!
Instagram: Caron's View of the Coastal Lifesyle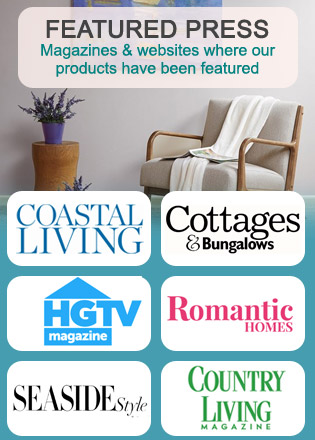 P.S. Don't forget to check your favorite decorating magazine - we might have products and profiles there too!