Posted by Caron on 14th Dec 2017
So thankful for our Caron's Beach House customers, plus our Facebook community, that so generously sent in pictures and stories of their coastal Christmas trees from around the country. We received 75 entries! Also, VERY thankful that we this contest was a random drawing - there is NO way that our staff could have decided which tree was the winning entry. There were just so many creative and stunning holiday decorations with a beach or nautical theme. We loved seeing just a glimspe into all of the coastal homes and hearing the wonderful stories of how these trees were decorated and how their owners carefully curated all of the decorations!
We have a winning entry - Congratulations to Darla Johnson of North Carolina!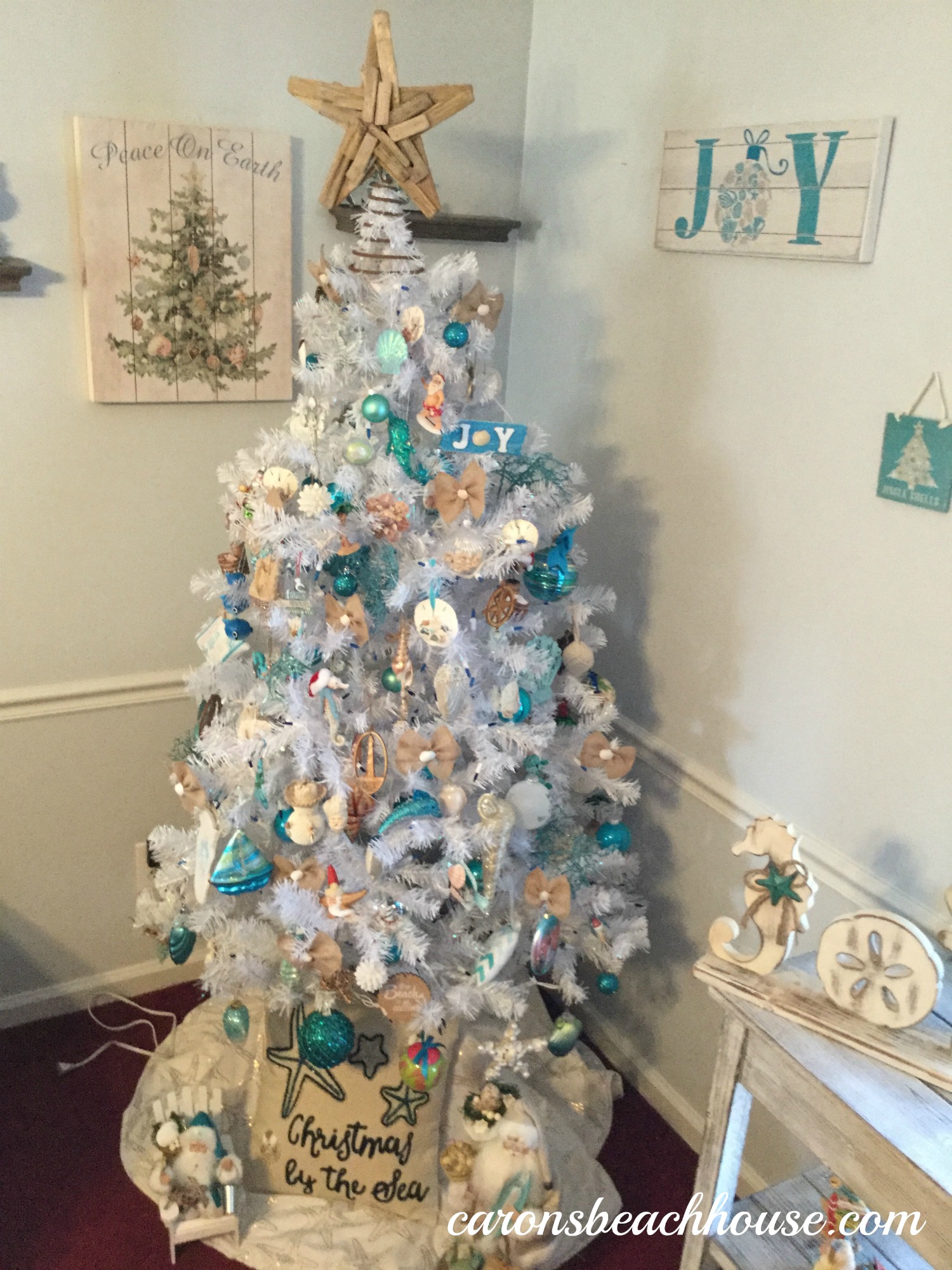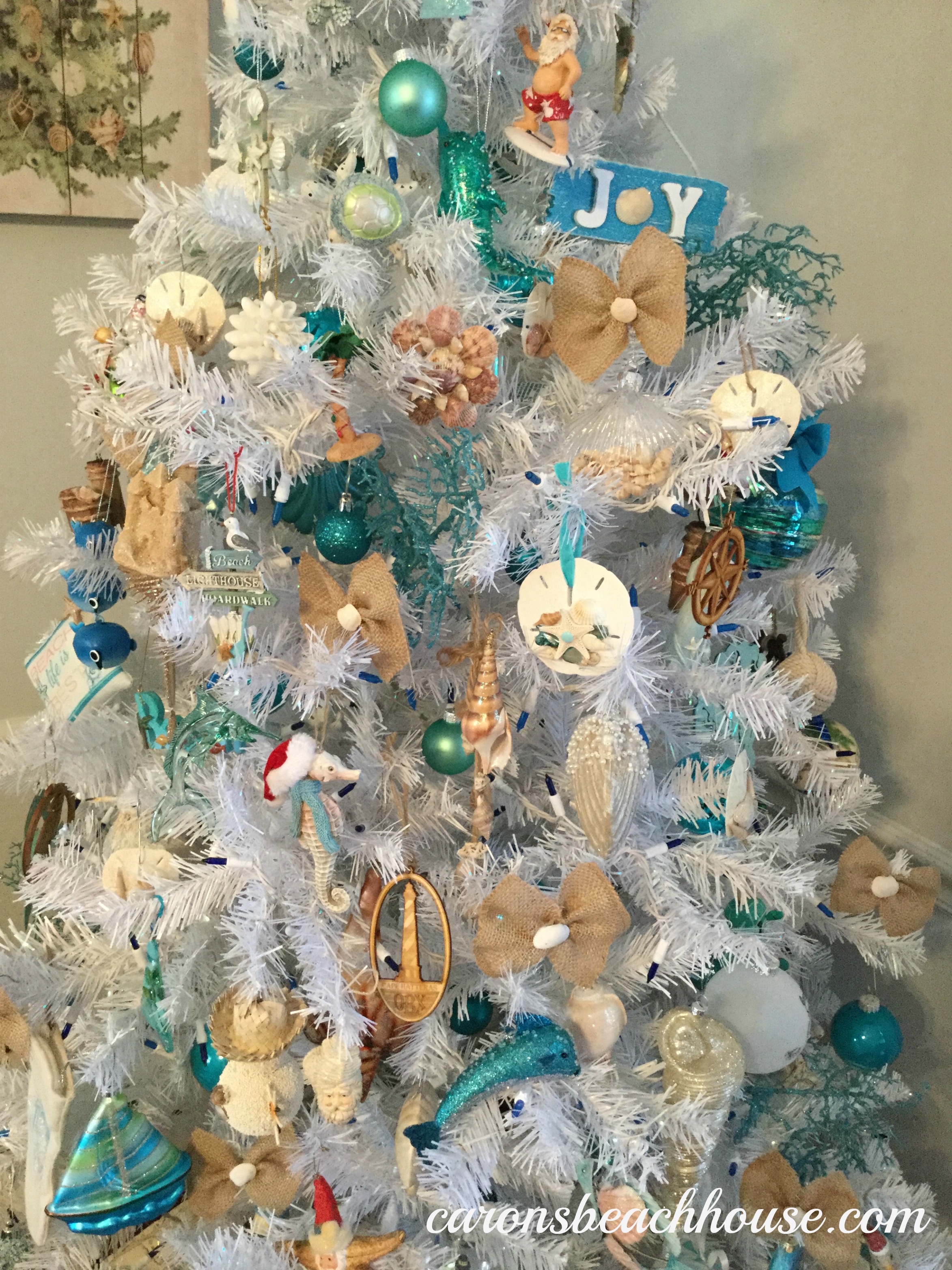 "My name is Darla Johnson and I live in North Carolina and about 2 hour drive from our nearest beach. However we love the beach and decided to have a Beach theme Christmas this year. Our Tree is white with blue lights and a Starfish Tree skirt.It's difficult to find beach related items this far inland but I think it turned out pretty. I make crafts,so there are several ornaments that are handcrafted and bought at craft shows. There are some ornaments made with the shells that we have found on our own NC beaches. I also have some Seaglass ornaments that have come from different places across our world from other beach lovers."
Just Wow - isn't her collection fun??
And a few more of these lovely beachy Christmas trees for your viewing pleasure.....
From Linda Gonzales via Facebook
"My beachy tree, complete with fishnet tree skirt. Christmas in Florida"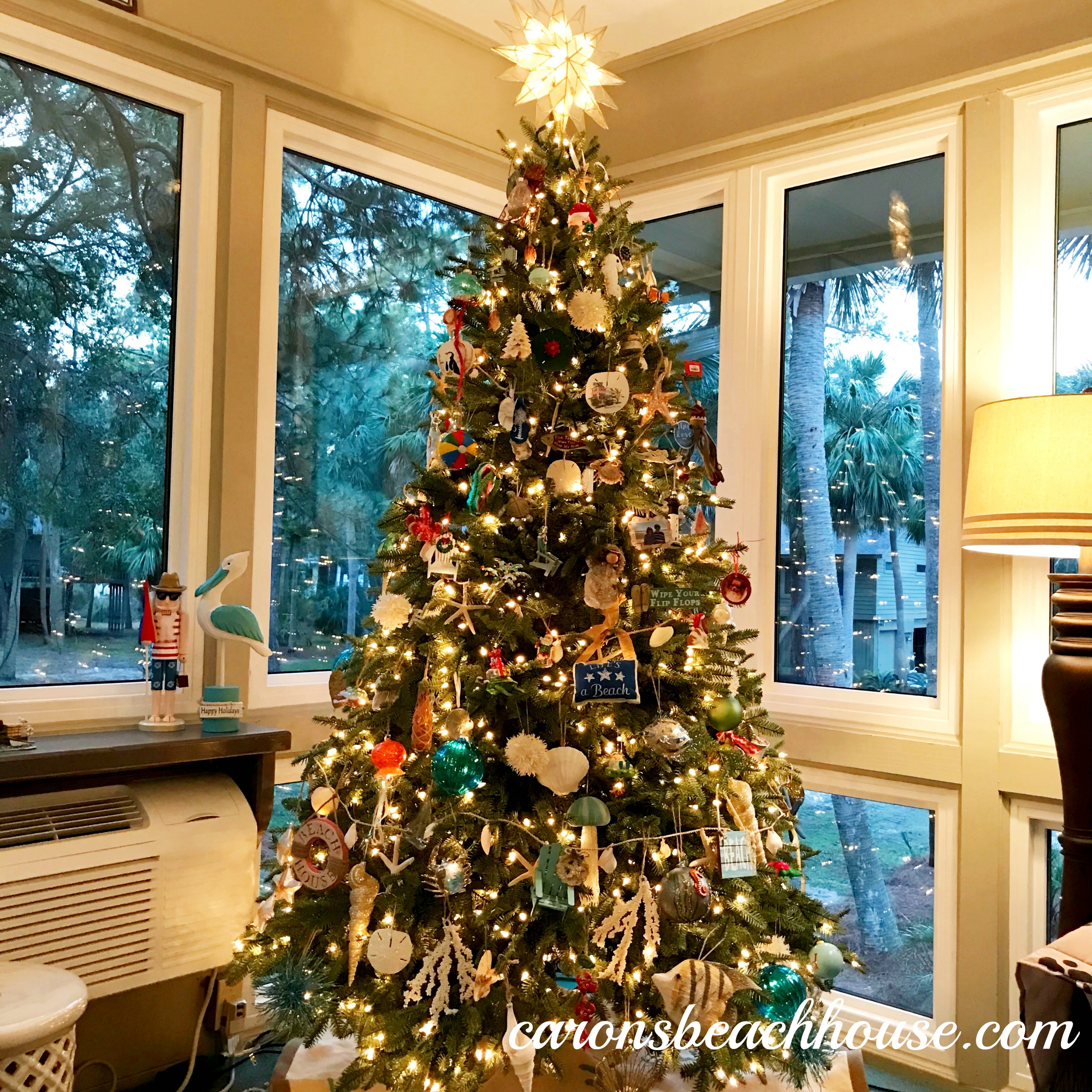 From Melanie Dunn via e-mail
"Our tree is a combination of our travels from Key West and up the coast to our home in Fripp Island, SC as wee as gifts from friends for the past several years. We just moved to the beach permanently in August so the tree is even a more special reminder of good friend and travels. We love all the ornaments - some are even home made by our neighbor across the street on her walks on the island! No matter how we acquired our ornaments, they represent what the tree is about - love and remembering those we love this time of year!"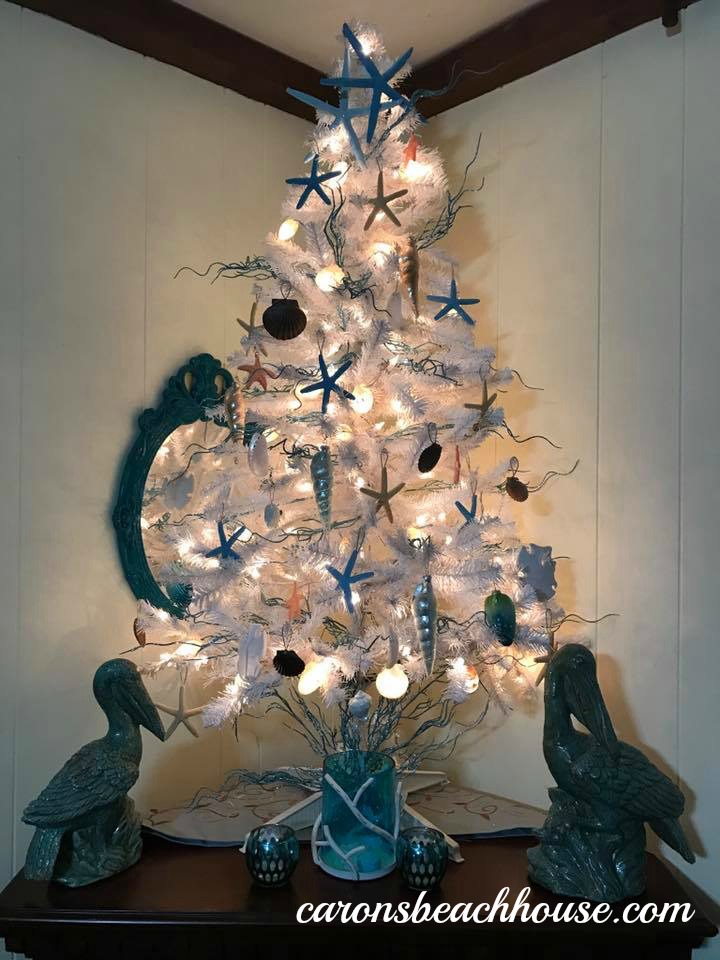 From Margaret Caron via Facebook
"Confession: I left this up all year"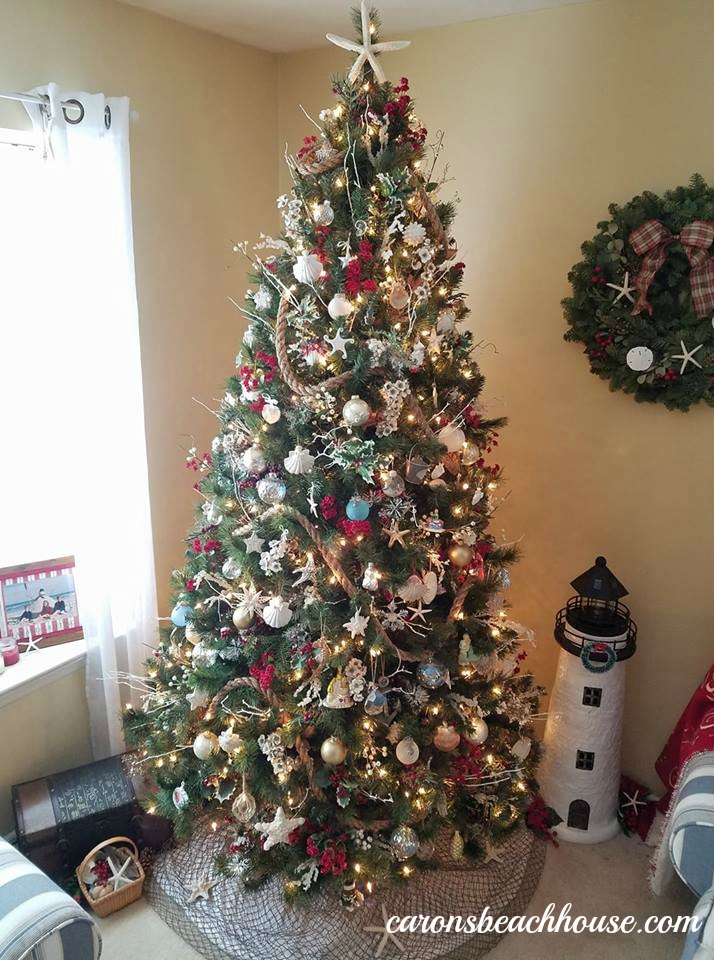 From Susan Dupp Holsman via Facebook
"My Christmas tree displays all of the beach-inspired ornaments that I have collected over the past 30 years. It has rope for garland, a fishnet as the tree skirt and a real starfish as the tree topper!!"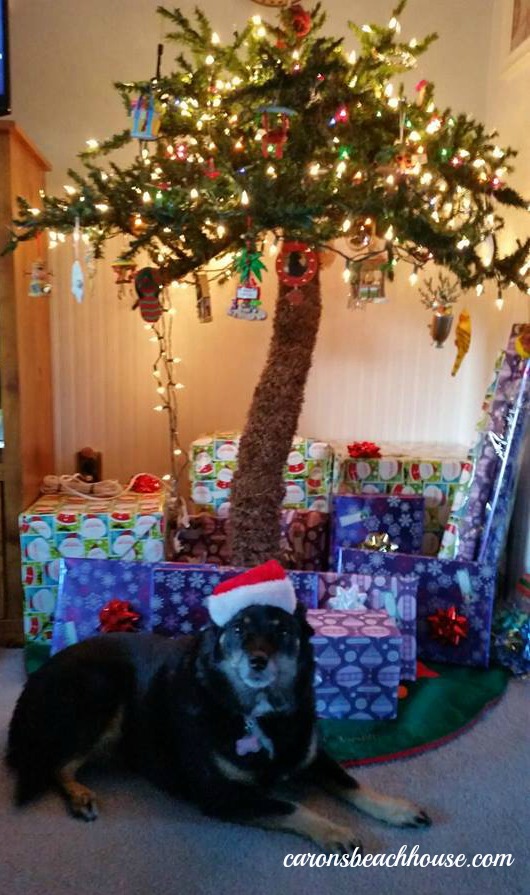 From Cathy Webb via Facebook
"This is my Christmas Palmtree, I love it. So does my furbaby!"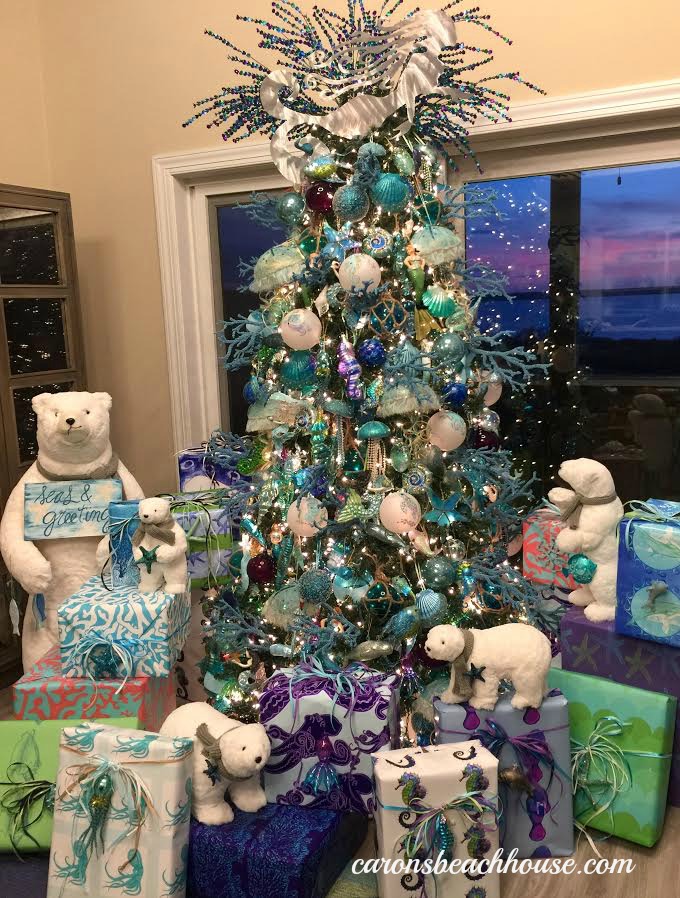 From Kara Ray (love those polar bears!) Sent via e-mail to our Beach Club
"This is my "Under the Sea" tree. If it's in the sea, you can probably find it somewhere on this tree. I've been collecting coastal decorations for years, but this is the first year I've done the tree. Several of the ornaments are handmade. Some by me, some by local artists and some by people that were kind enough to make exactly what I was looking for (stained glass starfish, mermaid tree topper, hand painted sea critter white balls, among others). The newest addition for this year is the coral, mermaid scales and sea critter wrapping paper. It has been fun hunting for all the items, then finally seeing them put together."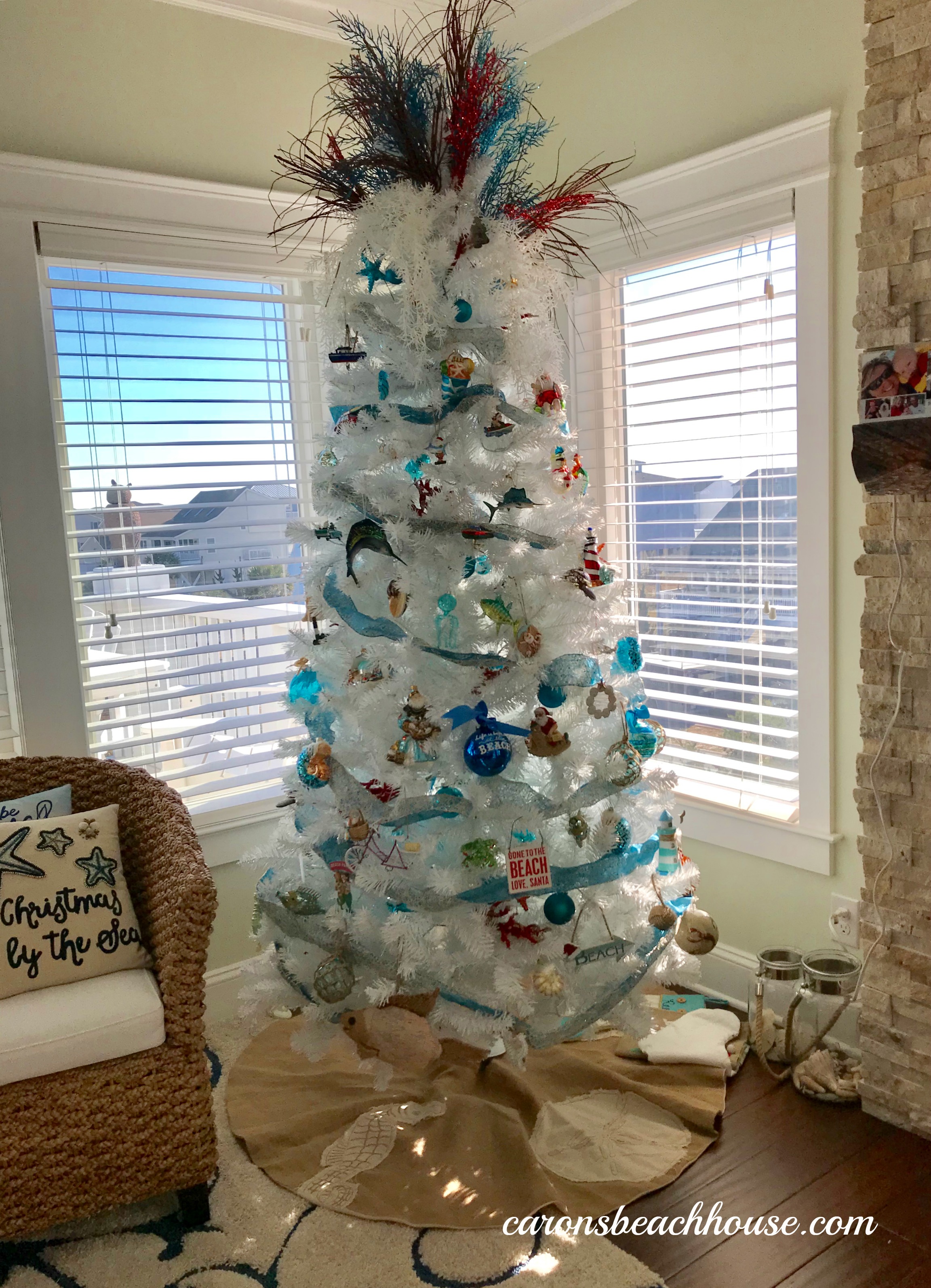 From Larissa Green via e-mail
"White 7 1/2ft tree trimmed with nothing but nautical....we love sport fishing so it has quite a few marlin and other fish on it."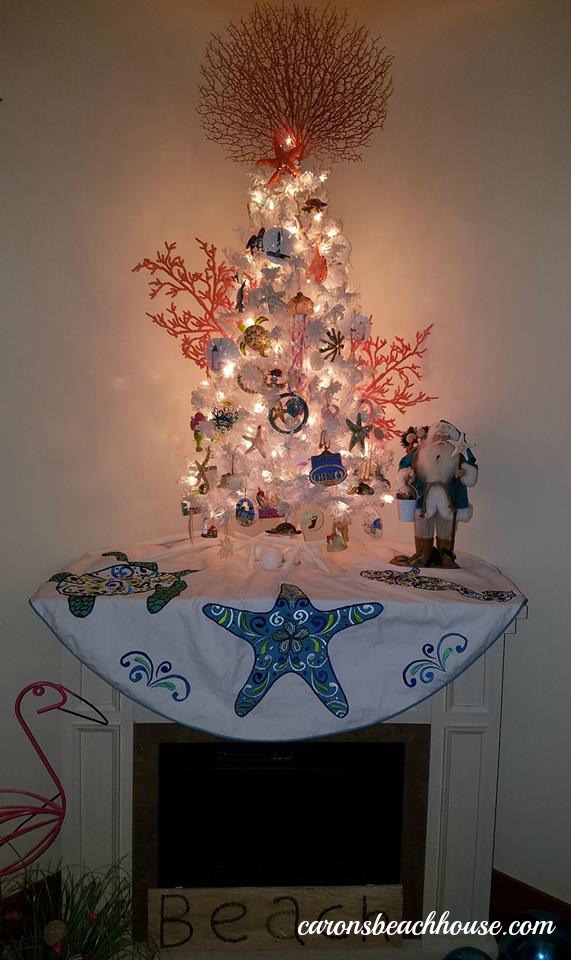 From Janelle Will via Facebook
"This is my beachy Christmas tree this year. All the ornaments I've collected over the years on beach vacations: Myrtle Beach, Ocean City, Tybee Island, Jekyll Island, Outer Banks, Gulf Shores, Pictured Rocks, and all the lighthouses I've visited."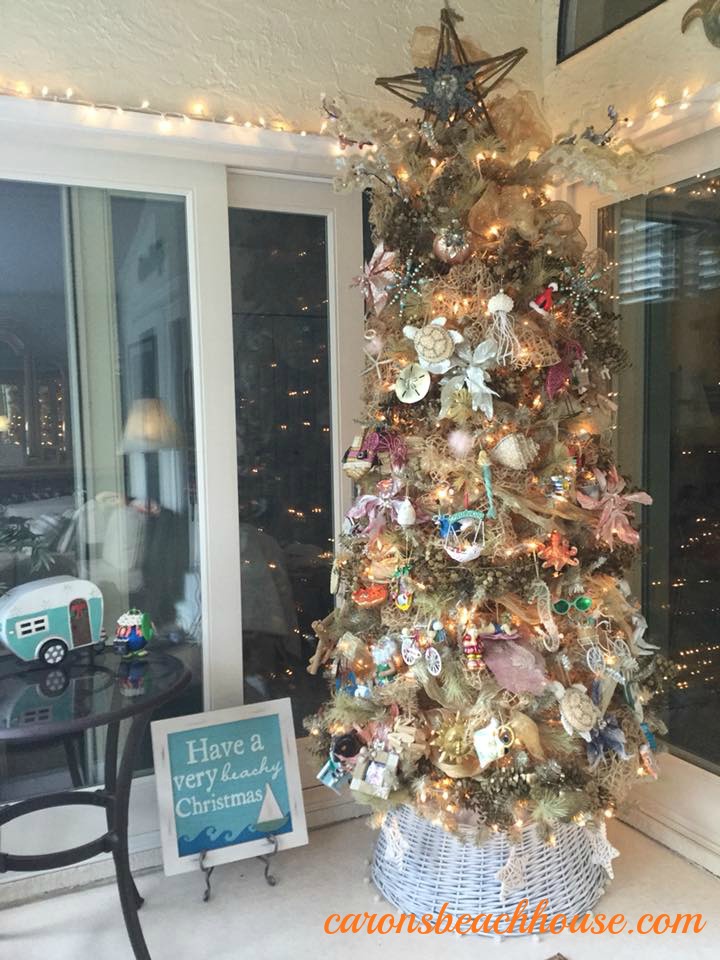 From Nancy Blair Korporc via Facebook
"Holiday Fun & Sun on the lanai!!"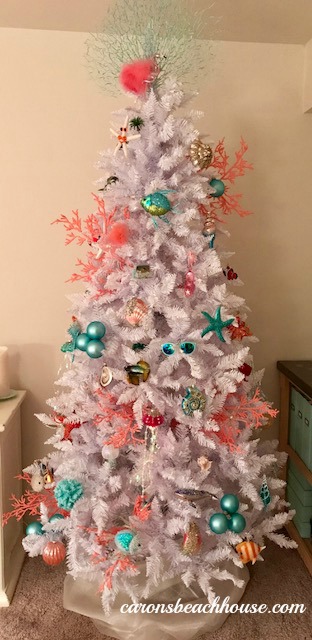 From Carol Piesik via e-mail
"This is my first Christmas tree in 10 years. I love the beach despite living in Michigan and yes, it snowed yesterday but I get to pretend I am at the beach when I am home"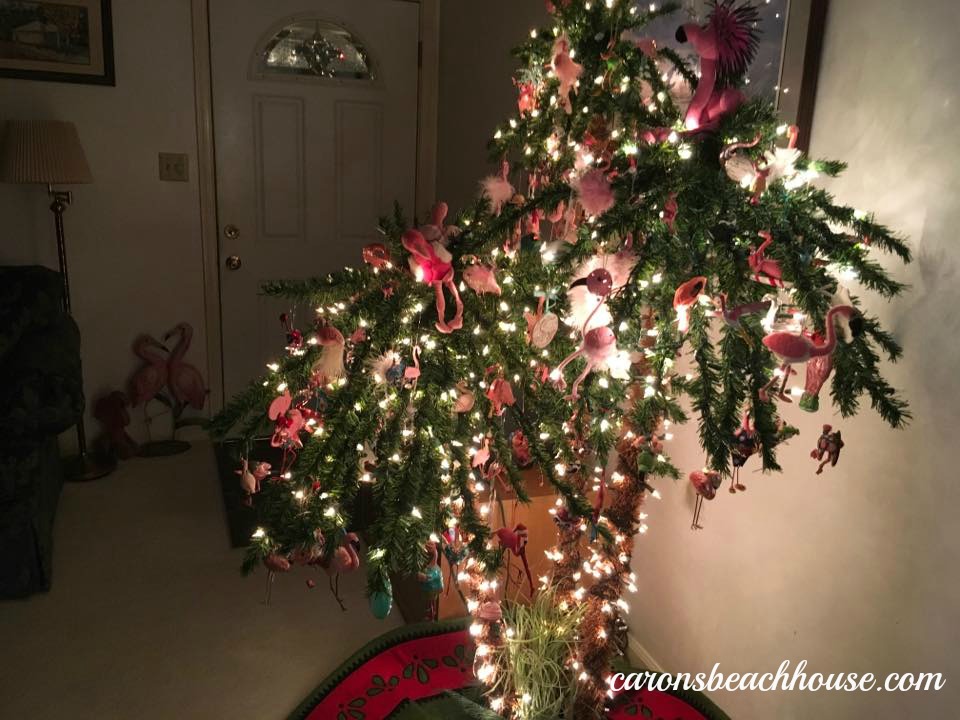 And a Palm Tree Full of Flamingos from Ester Hottel Freeman
So adorable!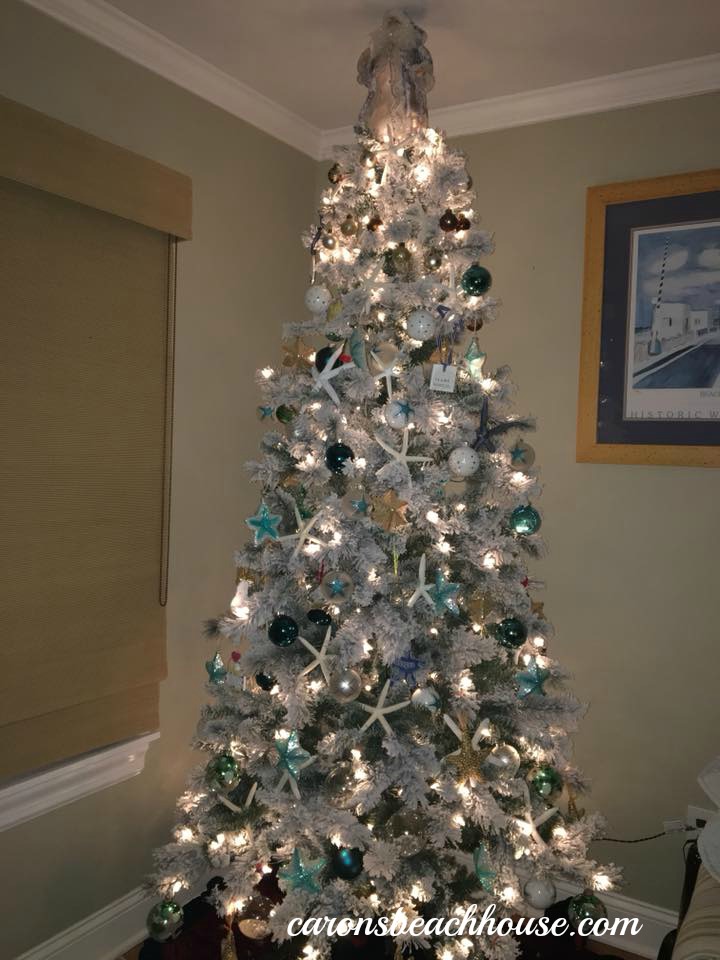 From Keri Brooke via Facebook - love all of the aquas and turquoise!
Thank you all again for entering - we cannot thank you enough for making this annual Coastal Christmas Tree drawing a really special sharing event! Make sure to check your e-mail inbox and your Facebook Messenger inbox for a speical thank you gift coupon code to be used in 2018.