Choosing the Right Size Outdoor Rug
NOW is a great time to consider updating your outdoor living space before your beach home guests start arriving. A durable, easy to clean, weather-safe, indoor-outdoor area rug is a great place to start!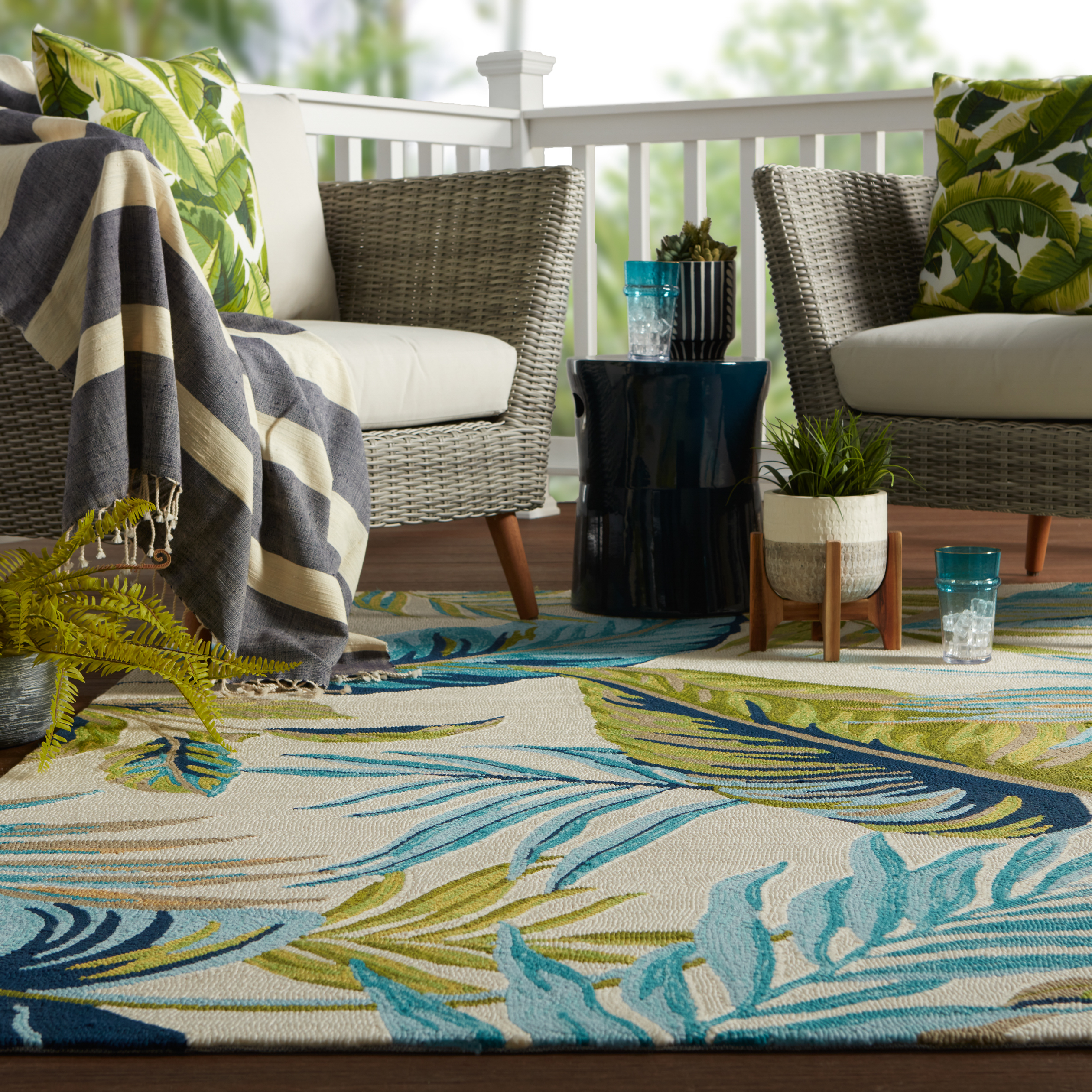 We've put together some easy design tips to help you determine the best way, and the best rug size to add to your outdoor living area for the coming spring and summer season.
Get out your measuring tape and see what works best for you!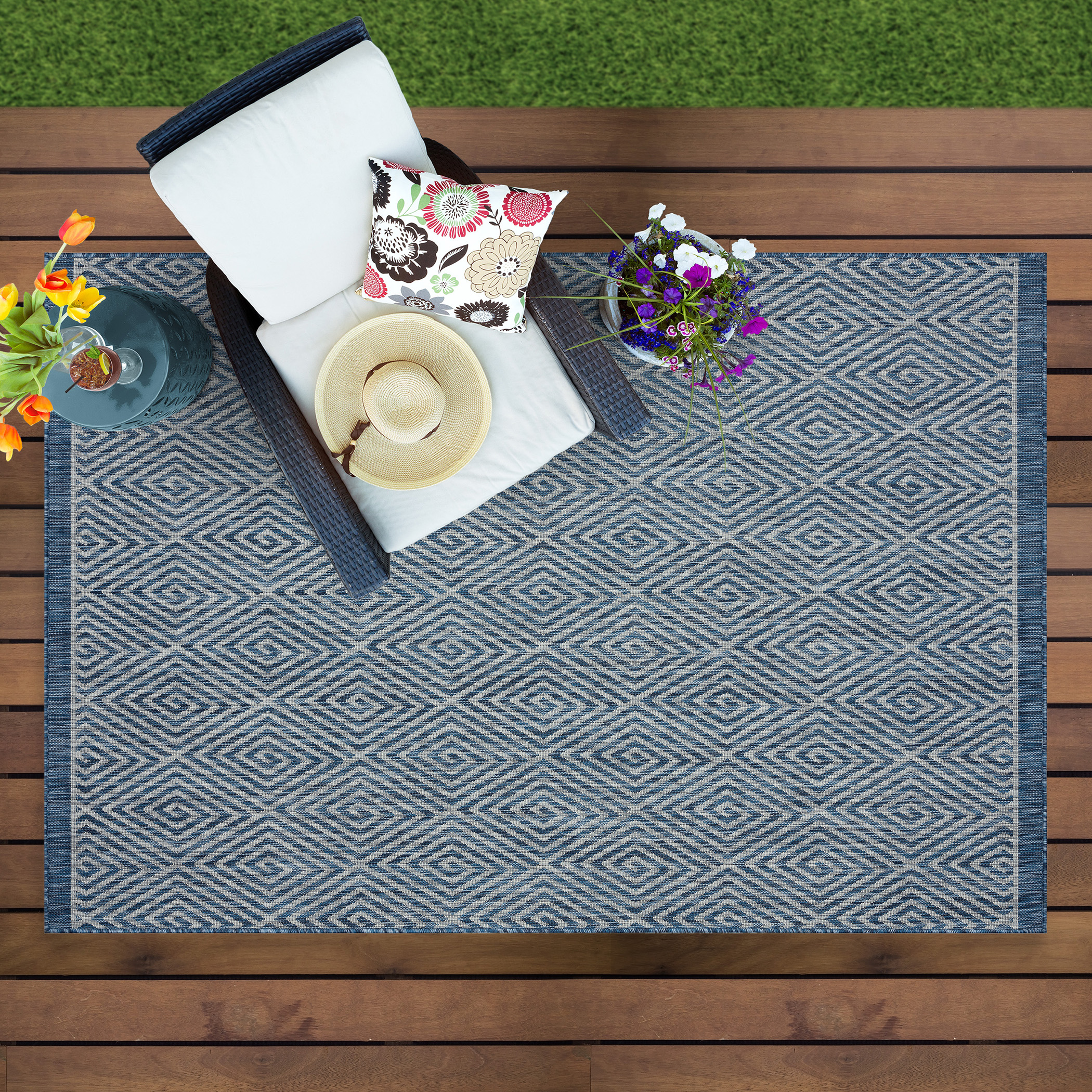 Step One: Measure your outdoor space AND your furniture sizes. Then determine which area(s) of your patio/lanai space will include an area rug.
We HIGHLY encourage customers to consider laying out the area with painters tape or create newspaper templates on their floor to get a good size visual. Much easier to help determine what size rug you will really need before buying the wrong one!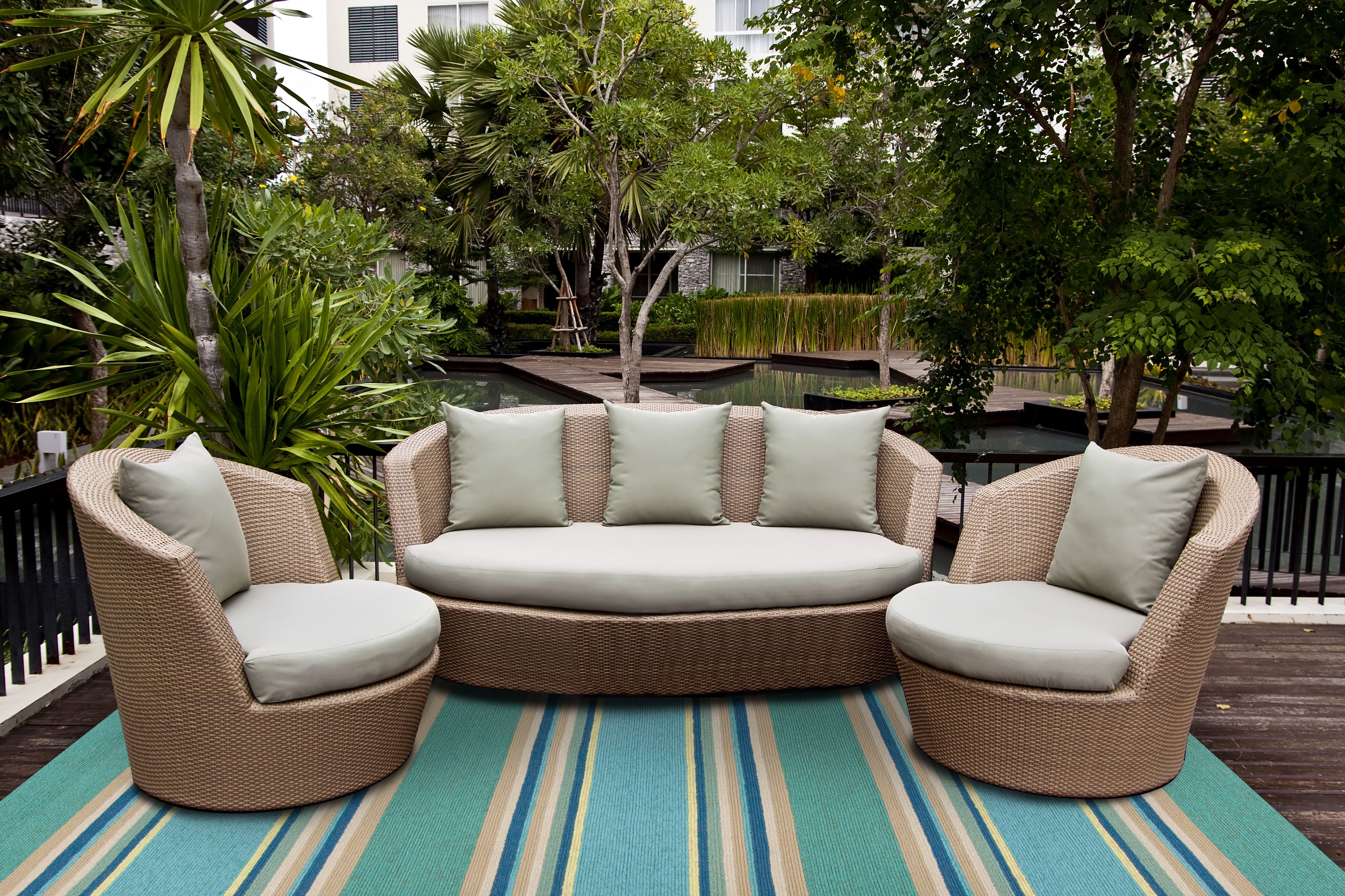 Two: If you are creating a Living Room/Outdoor Seating area, here are some things to consider - it's very simlilar to how you would place a rug indoors, the same principals apply. Popular living room sizes include: 5'x 8', in front of grouping, 8' x 10', front feet of furniture on the rug or 9' x 12', all furniture placed on the rug. For smaller outdoor spaces, we would also consider a smaller 3 x 5 rug to be used all in front of the furniture grouping.
See our example drawing below to get an idea how a 5 x 8 or 3 x 5 size would look.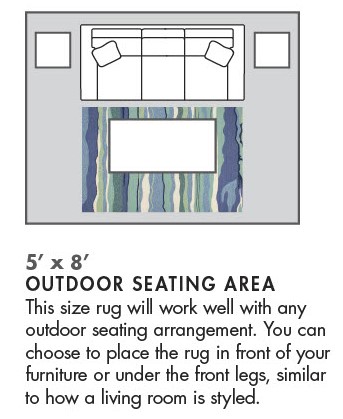 (Designer Libby Langdon for KAS Rugs - On Sale Now)
Three: If you are creating a Dining Space, you might want to consider a larger rug. A good design rule is to leave 20 inches on each end of the table to allow chairs to be pulled out. Popular dining room size recommendations include: 5'x 8' for 4 chairs, 8' x 10' for 6 chairs, 9' x 12' for 8 or more chairs.
A large round rug would look great too, you just need to follow the same sizing rules for the number of chairs and the size of your chairs that fit around your dining table. 5 foot diameter would accomodate 4 chairs, 8 foot diameter would accommodate more.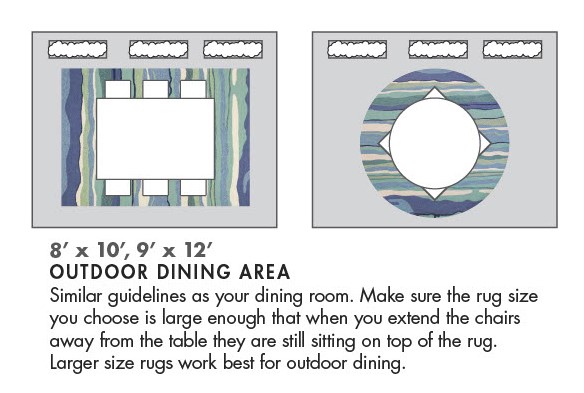 Design Note: A good rule of thumb in a space is to leave 15" -18" of bare floor/decking exposed when considering a large size rug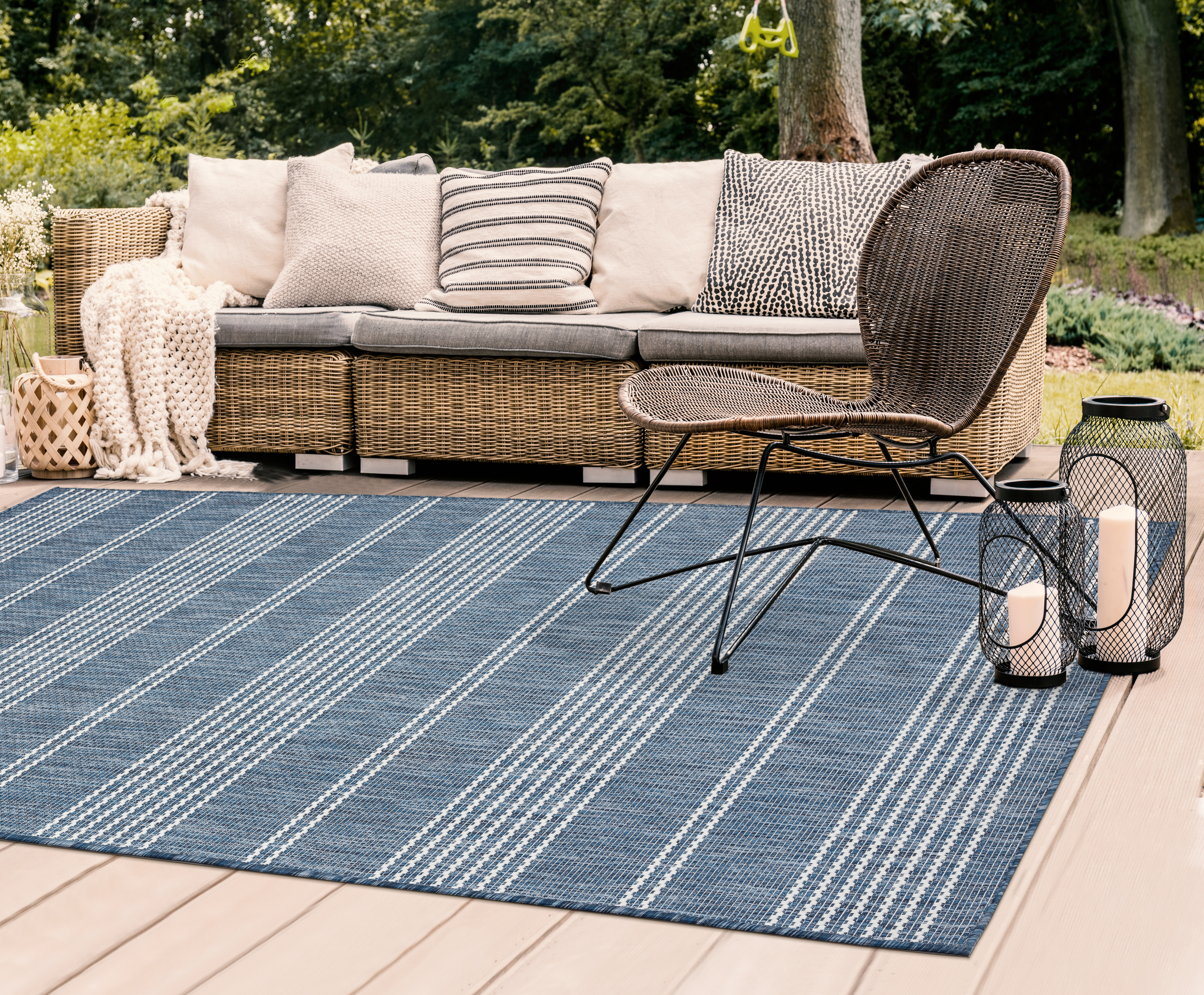 It's a Great Time to Add Color and Coastal Design to your Patio, Lanai or Deck!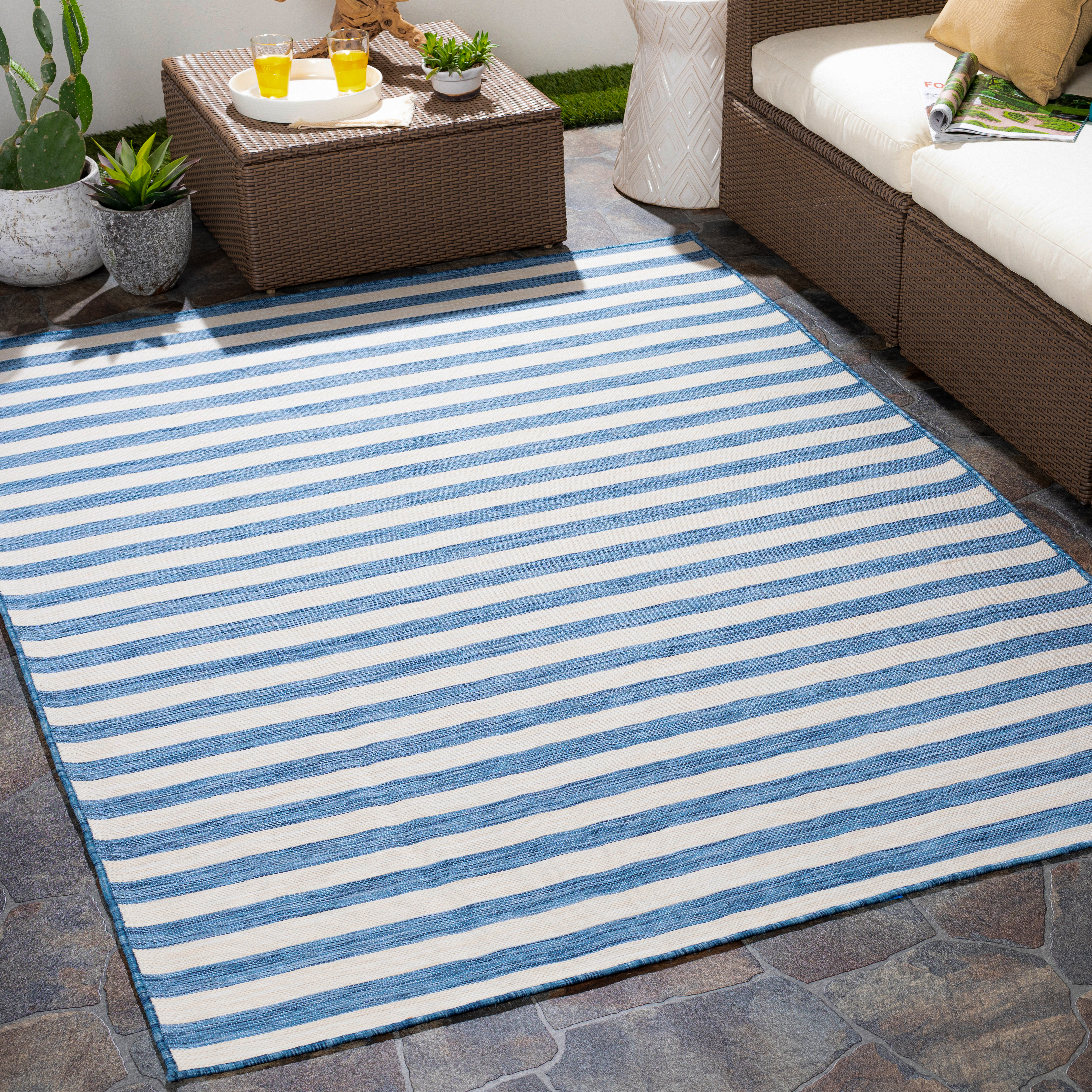 We are so ready for friends and family to be able to come over again, we are sure you are too. Get ready for safe-social distanced gatherings by updating your outdoor space; define your room with a outdoor durable rug, layer in cozy weather-safe pillows, a few throw blankets and light the candles for your next coastal-chic get together!