Last Day for Christmas Tree Submissions!
From Charlie Hicks - so fun with pink flamingos and surfboards!
Oh my gosh - we are simply overwhelmed with the response and all of the stunning Coastal Christmas Tree Submissions for our 2019 annual holiday drawing! Have to show you a few more of these gorgeous creations...
Cannot thank you all enough for sharing and inviting us into your homes to take a peek!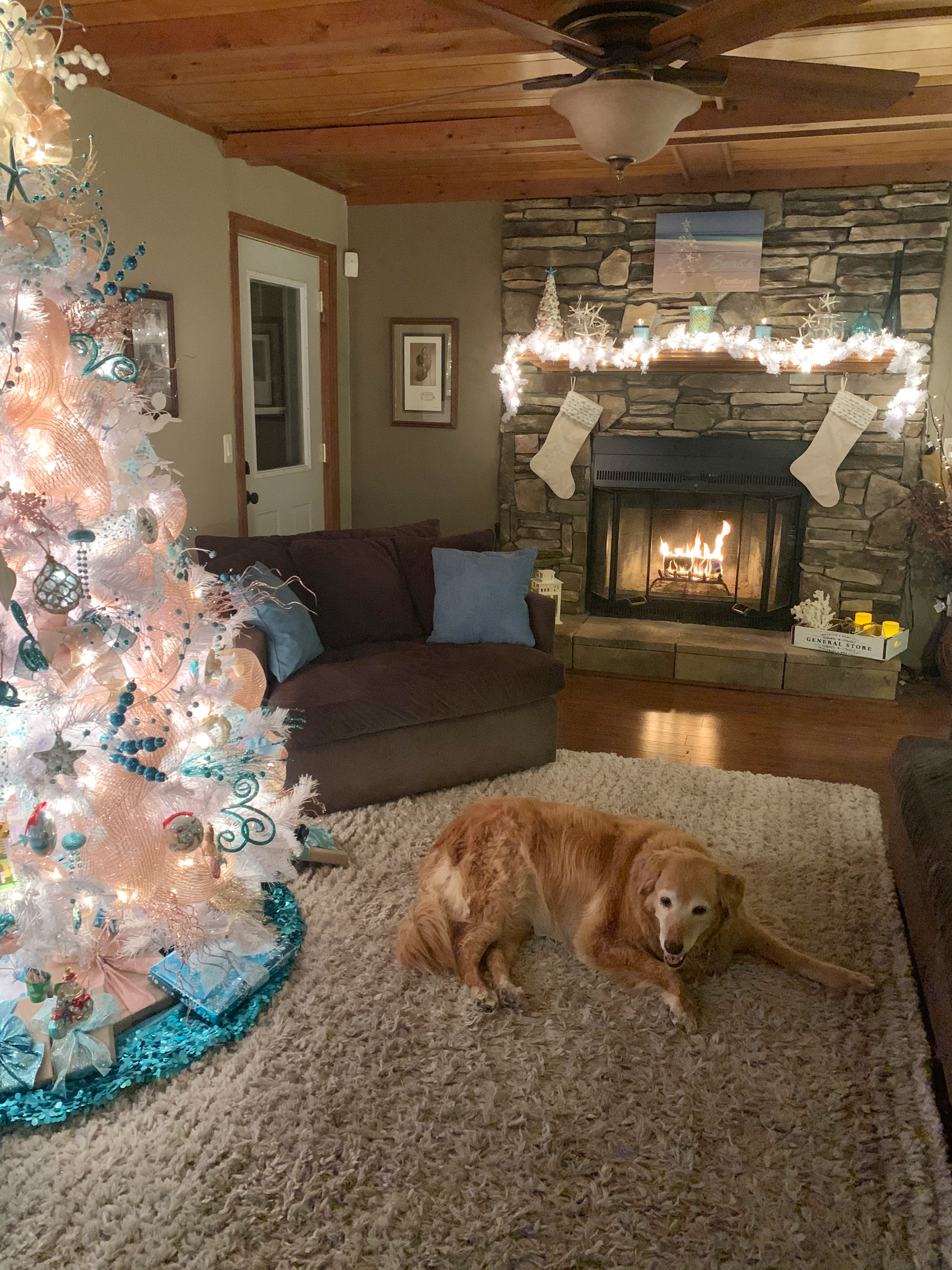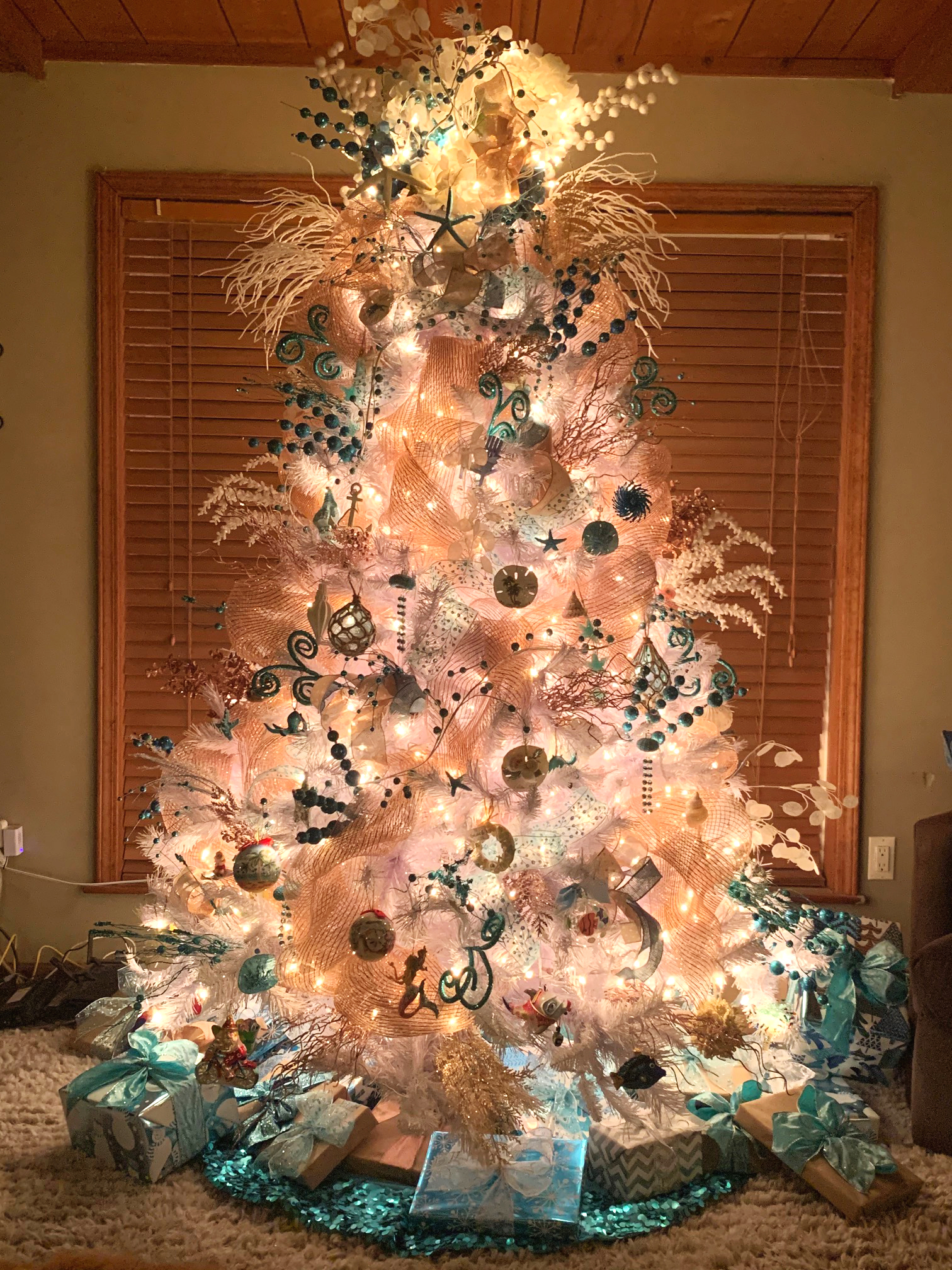 From Kelly Arkles
Check out her story - "The inspiration for my tree is my love of the Family Islands of the Bahamas. This year, specifically Eleuthera. I used rose gold poly mesh to represent, as closely as I could, the beautiful pink sand that you find in Eleuthera. The teal accents are the closest I could find to the amazing shades of blue that you see in all of the Bahamas. Ornaments are a mix of handmade using sea urchins, beads, sand dollars and starfish along with treasured ornaments from various beach vacations."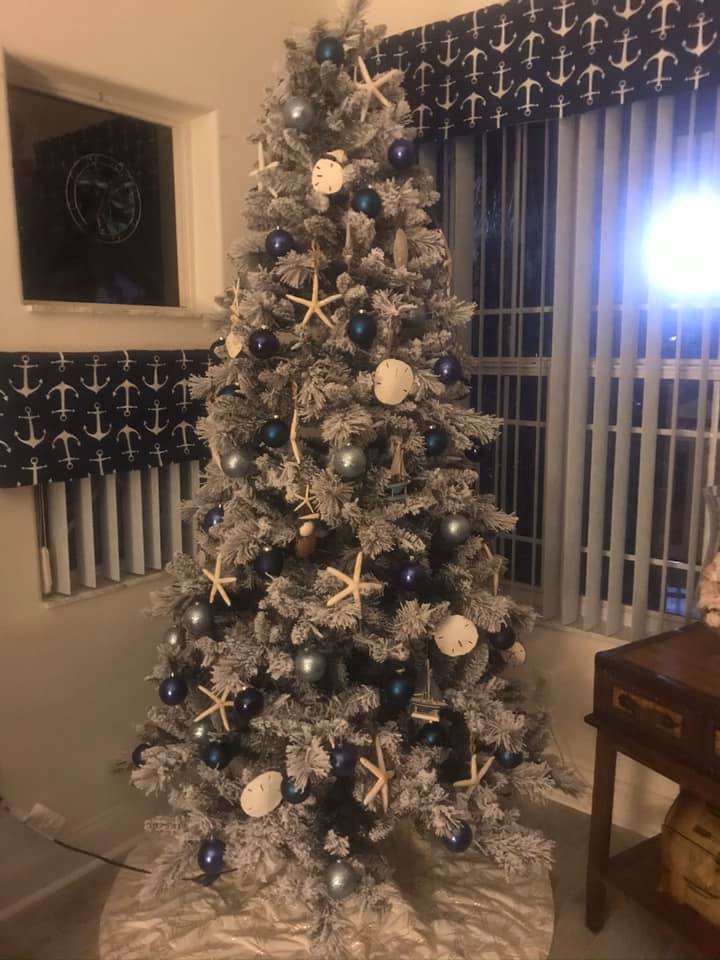 From the Palm Coast of Florida - June Caroll Janssen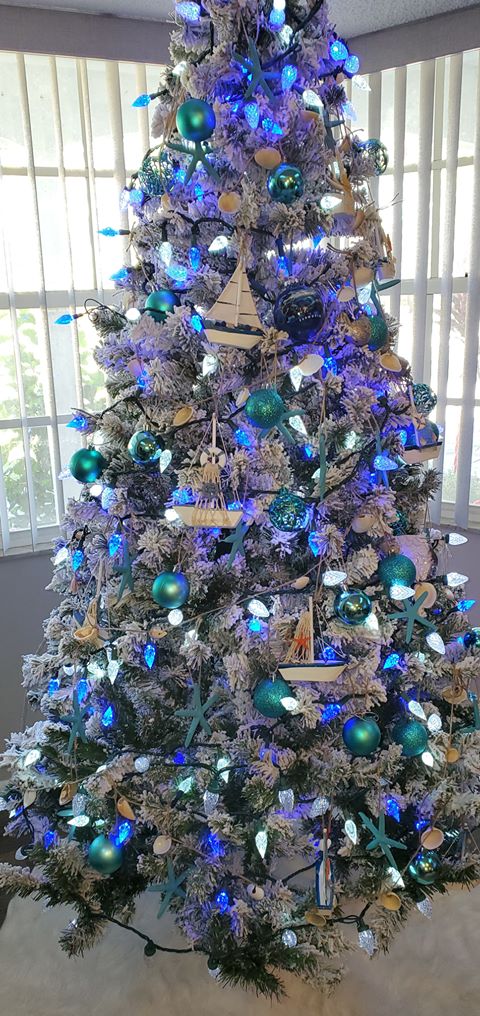 From Charity Neal Rogers - LOVE the nautical theme and the teal + turquoise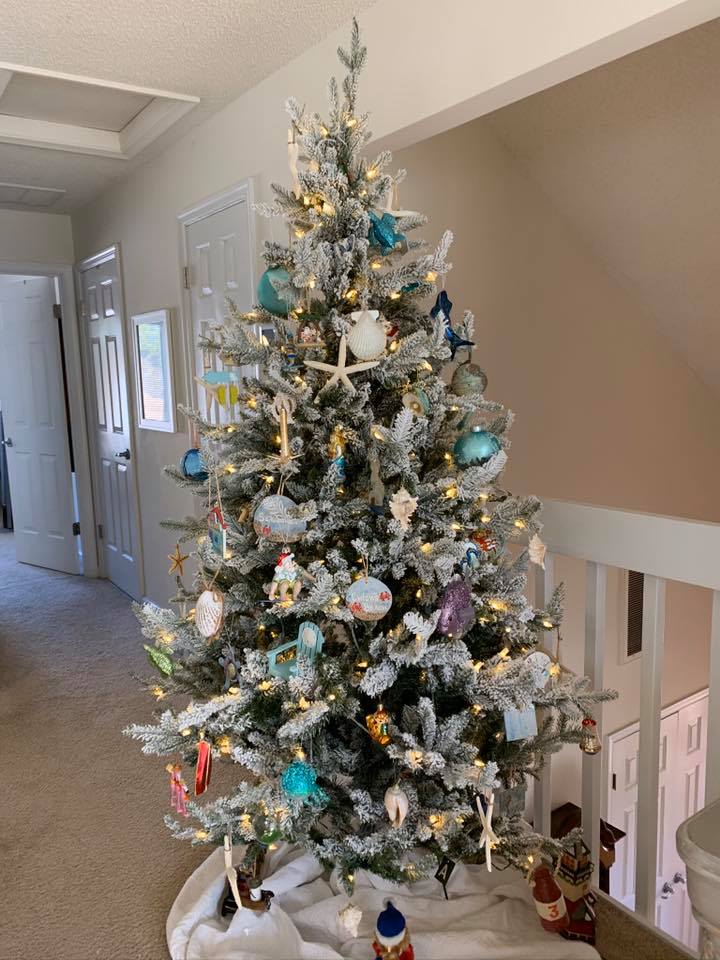 From Jeanie Carter
Check out her story: "Here's mine- I am a pilot and fortunately fly into some amazing coastal towns. Throughout the year I purchase coastal theme ornaments to add to my Christmas tree. On past cruises, I've made sure to get an ornament at every port. I have commissioned One of my favorite local artists to make coastal theme ornaments with each neighborhood I've lived in my entire life spelled out on the ornament. We moved a lot as a child growing up. My collection of coastal ornaments is my passion."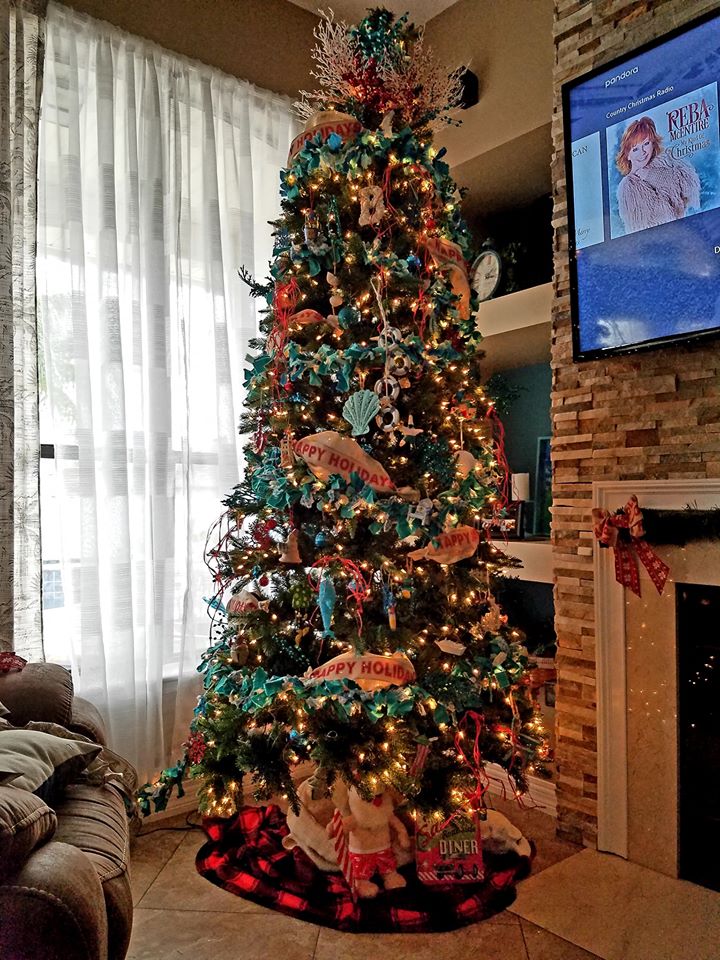 From Theresa Phillips Brooks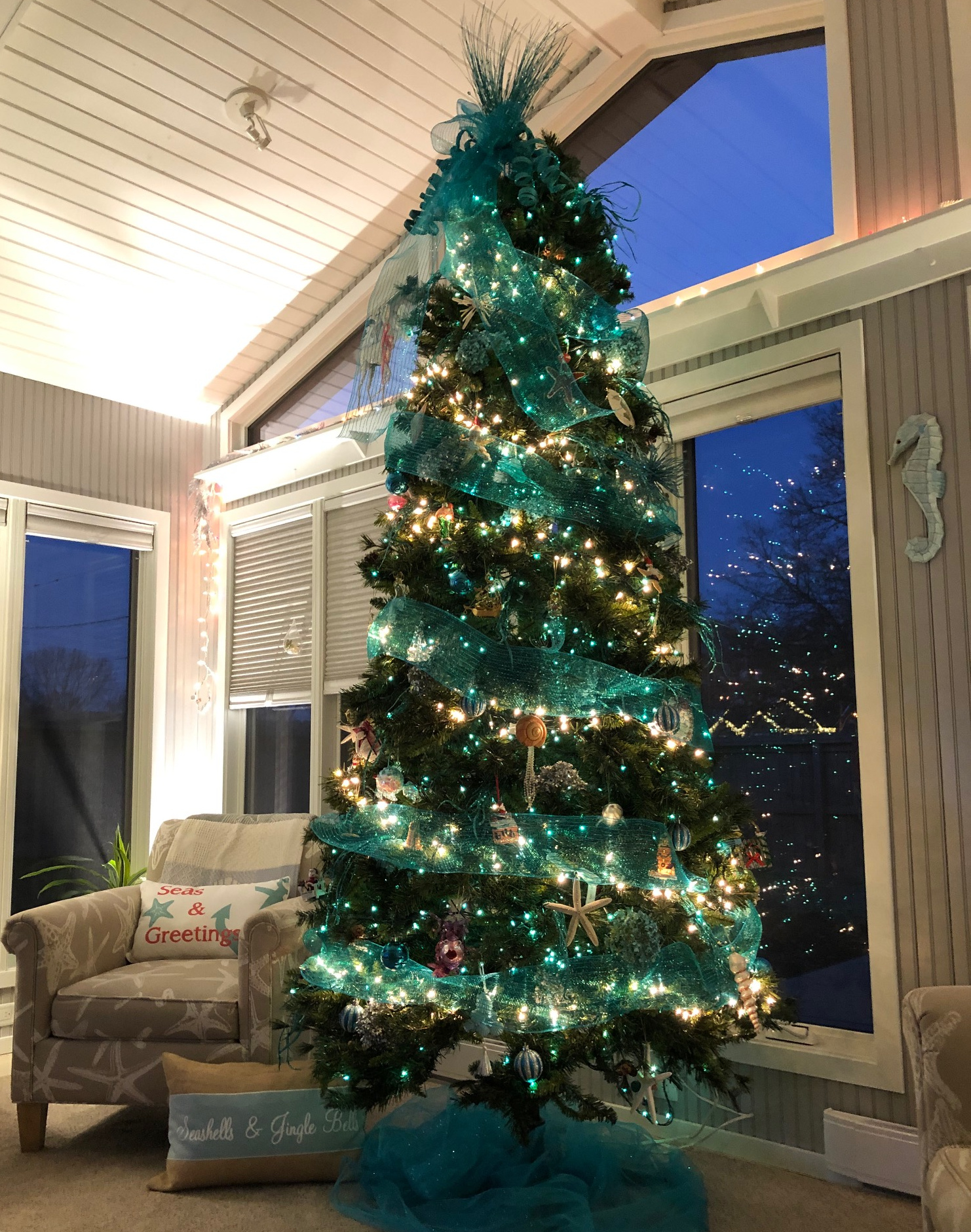 From Shirley M Fusinetti
"I have been saving special ornaments for years of special meaning to me! They are all sea related. I live in a landlocked state and I think I must be misplaced. I love everything of the sea and ocean. The colors of sand and shells and sun rises and sets. I couldn't zoom in on my tree as it is 9' tall and the you wouldn't get the full affect but it is full of shells and fishies and mermaids. Turquoise and white lights. Just love sitting in my sunroom next to it.
How to Enter our $100 Gift Certificate Drawing?
Submit your entry by completing any of the three easy options below:
1. Simply shoot us an e-mail at contest@caronsbeachhouse.com with your Coastal Christmas Tree picture attached.
2. Post a picture of your gorgeous Coastal Christmas Tree on Facebook. You can either post directly on our page – Caron's Beach House– or tag us, whichever works best for you!
3. Share your awesome beachy Christmas decorating on Instagram and tag us (@caronsbeachhs).
Be sure to include the special decorating details that make your tree unique - the more information the better!
All entrants will receive a special 15% off coupon to be used at a later time (up until March 2020) after we announce the $100.00 gift certificate winner - just for entering. Come Join the Fun!