Decorating Tip: Add a Sailboat
An essential ingredient to adding a polished touch, with a hint of vintage nautical; display a large scale model sailboat or even a regatta - take a look! We have so many room ideas for your inspiration and our latest decorating obsession...
Designer Libby Langon's Room featuring the Tangerine and Navy Cooper Square Rug at Caron's Beach House
(Source: Maine Home - Cottage by the Sea)
To give your room a sophisticated, classic polished finish and to instantly bring in the romance of sailing and life beside the sea. Wind in your sails, the call of seabirds, an afternoon exploring rocky coves, the rush of the sea...
A gorgeous dark blue model sailer from HGTV, showcasing designer Sarah Richardson's Summer Home . Creating a welcoming statement focal point for her lovely dining room, this large scale sail boat really stands out!
Setting the tone for a traditional Nantucket styled cottage! This large red and white linen sailboat sits atop a antique sofa table creating a not only a focal point in this charming living room, but also serves as wall decor too. (source Homebunch)
Don't you love how this large scale sailing model mimics the pitch of the dining room ceiling? Perfect use of space while making a beautiful nautical design statement!
Designer Anthony Barratta never fails to impress! I adore that bright red accent wall decorated with vintage china plates with small sailboats - warm and bold. Can only imagine the interesting dinner conversations that take place here, especially on a cold night with a roaring fire in the background... (source Anthony Baratta Design)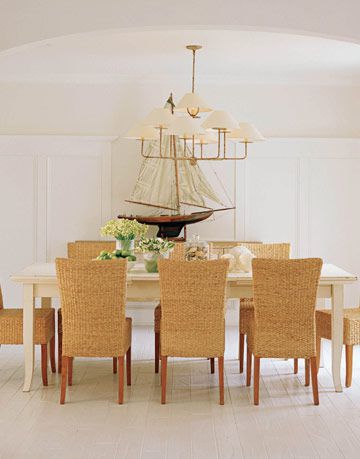 A family's love of boating is exemplified in this beautiful dining room highlighted with a sail boat gracing the buffet cabinet. No need for extra wall art, this maritime piece says it all and becomes the focus point of the well-appointed room of a Delaware Summer Beach Home. (source: House Beautiful)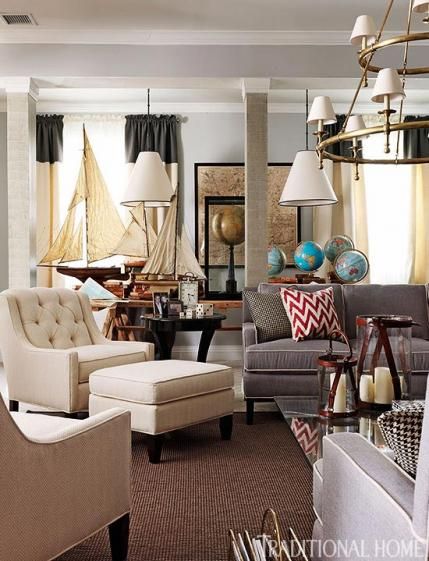 If one large model sailboat seems to overwhelm your space, love the idea of creating your own small regatta! Like designer Libby Langdon put together beautifully in the 2012 Hampton's Showhouse. Crazy about the globe collection too....(Tradtional Home)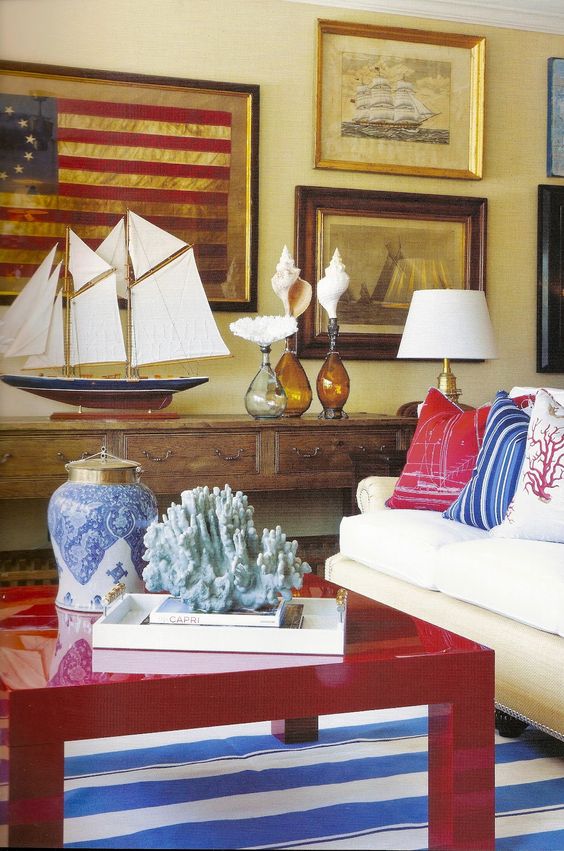 (source: Barclay Butera)
(not sure of image source - sorry.)
Lovely idea for beach cottage homes too. Display a collection of vintage and newly found model sailers, creating interest with different sizes and colors - no need to be matchy-matchy/boring-boring. (not sure of image source - sorry)
(Caron's Beach House - Model Sailboat Collections)
Take your time and hunt for one with a beautifully varnished hull, brass fitting details, and a large white linen or cotton sail (think of the "True Love" in the Philadelphia Story!)
My friend Kathy has a really awesome collection of sailboats displayed in her beach home on Hood Canal. This vignette is just one of the images that I captured when she gave us a tour last summer. Super cool because Kathy and Mike escape the cold, wet Pacific Northwest winters on their sailboat cruising the Sea of Cortez....
Personally, I like to think the treasure hunt is one of the best parts of decorating...
Sunset Sailers - Set of 4 in all different colors
Have fun with this idea at your coastal home. Antique stores and flea markets are great places to look for vintage sailers, but if you don't have easy access to great nautical vintage finds, we do have over 50 different styles of model sailing boats on our site that are based on real vintage sailing and yachting vessels. Come explore!