Posted by Denise on 11th Apr 2022
Happy Spring!
Our Caron's Beach House crew has been very busy the last few weeks adding new indoor-outdoor rug options to extend your beach or lake home living to your outdoor areas too! To help you choose the best indoor-outdoor coastal rug for your home, we're including 5 Must-Know Facts about outdoor rug fiber and construction to make it easier to navigate your wide variety of choices.
1. Polyester and Polypropylene are the most popular fibers for indoor-outdoor rugs. Thanks to their inherent nature, these durable yarn fibers repel water and help prevent molding and rot in damp, wet areas.
While both fibers are man-made, each has its own benefits.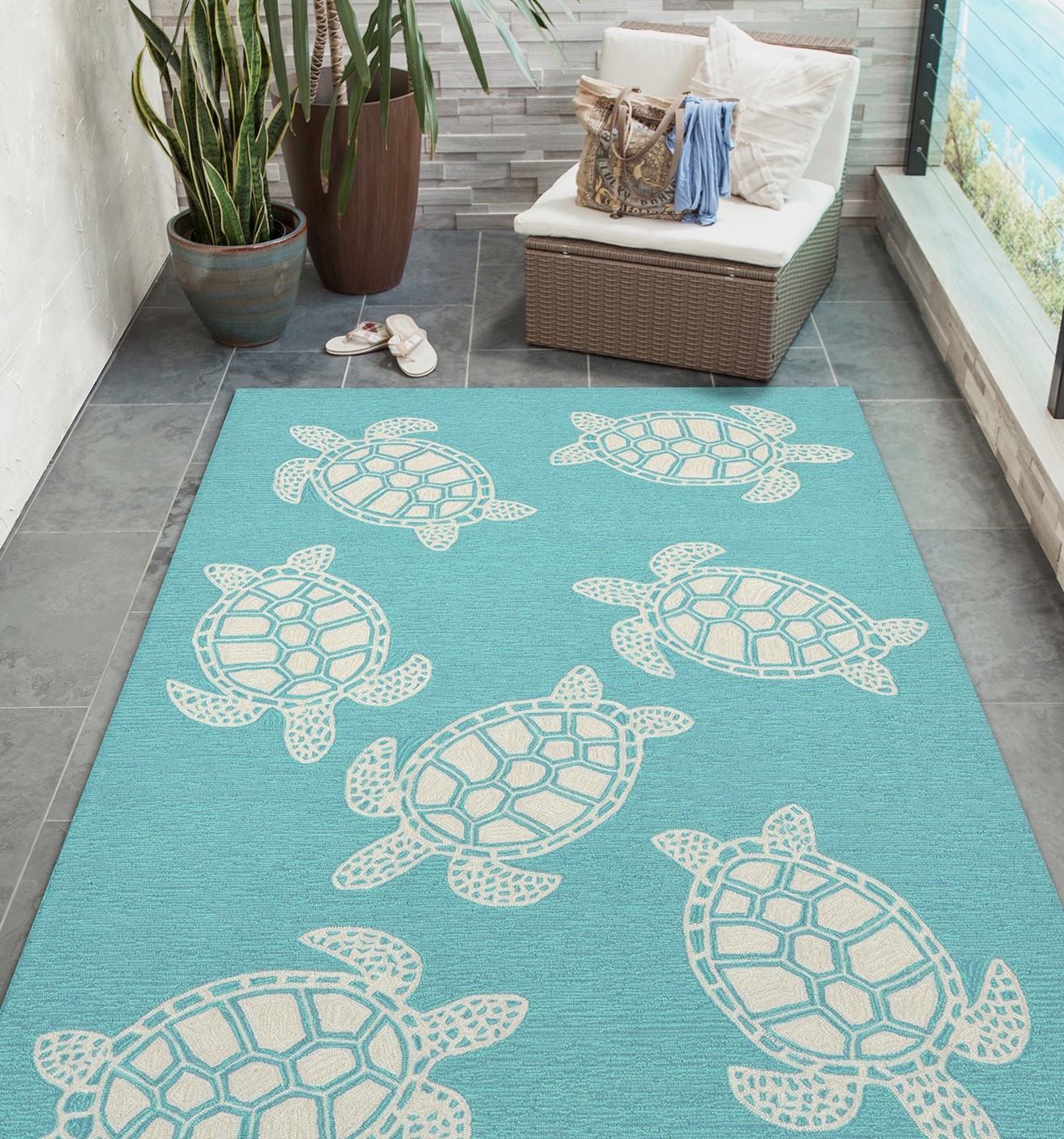 2. Polypropylene's solution-dyed nature means its color absorbs all the way through the fiber, preventing fading and allowing for vibrant bold hues. Many times these rugs are power machine loomed and are typically more of a flat weave construction, but many also have texture and dimension woven into them.
Using Polypropylene can also include rugs that have interesting textures, some with hand-hooked designs and patterns - not always just a simply flat solid color. Rugs made from Polypropylene also usually have great UV protection and are fade resistant.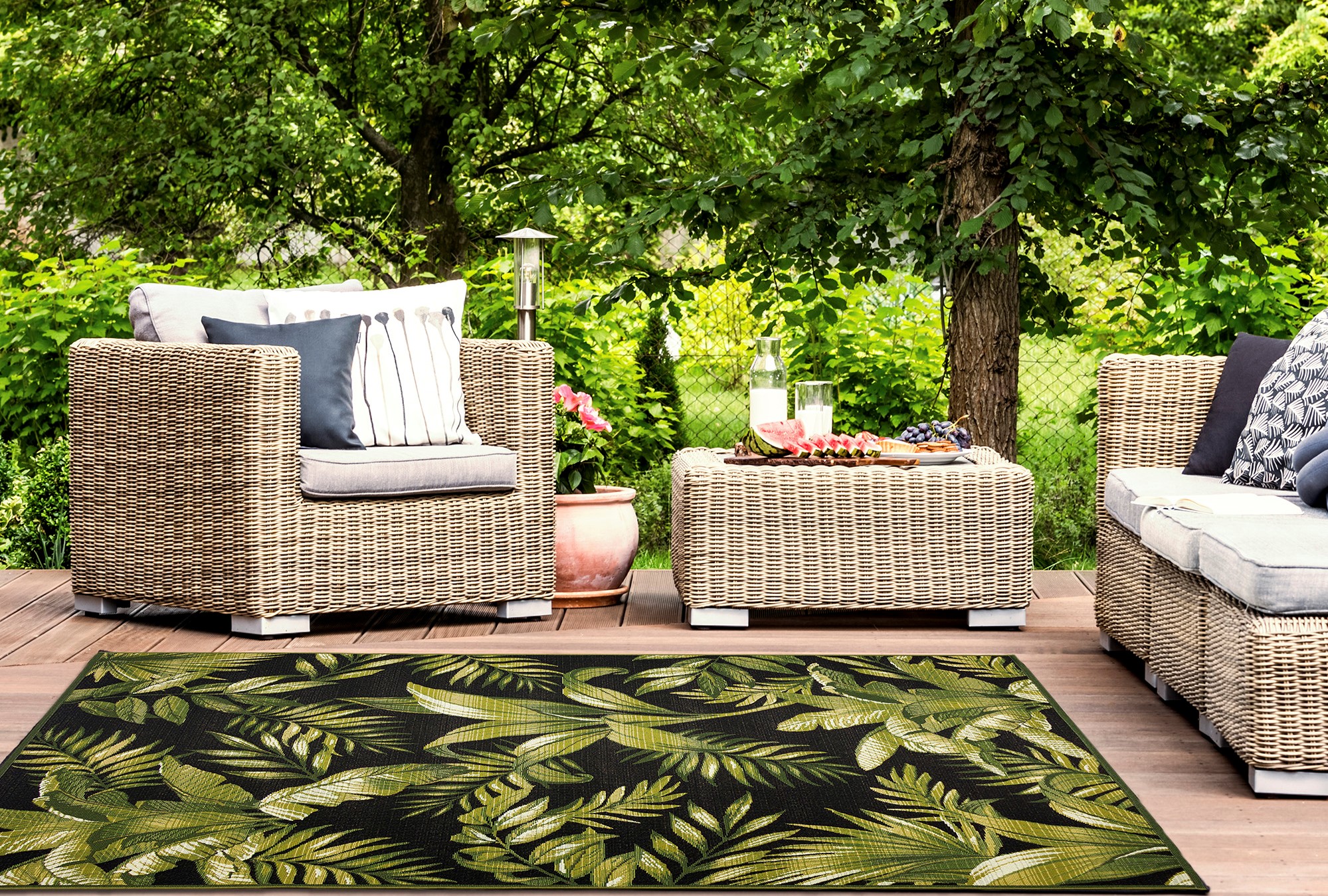 3. Polyester, however has a more luxurious touch and is fabulous for its soft feel on bare feet!
Look for hand-hooked styles and more plush hi-lo design pile rugs. Not always ideal for spaces that are continually exposed to weather (rain!) these rugs are better in warmer climates or covered patio areas. Perfect for sunrooms and kid playrooms too. But be careful! Hand-hooked or looped style rug construction is more prone to damage from pets claws.
4. One of our favorite newer materials for outdoor rugs is recycled PET yarn. This unique fiber is made from recycled water bottles - keeping them out of land fills, but especially out of our oceans and off the beaches!
Once the plastic bottles are melted down, these fibers are extruded and spun to mimic natural soft yarn like wool. Creating rugs with an amazing durable fiber that's easy to clean, soft underfoot, and amenable to high traffic areas.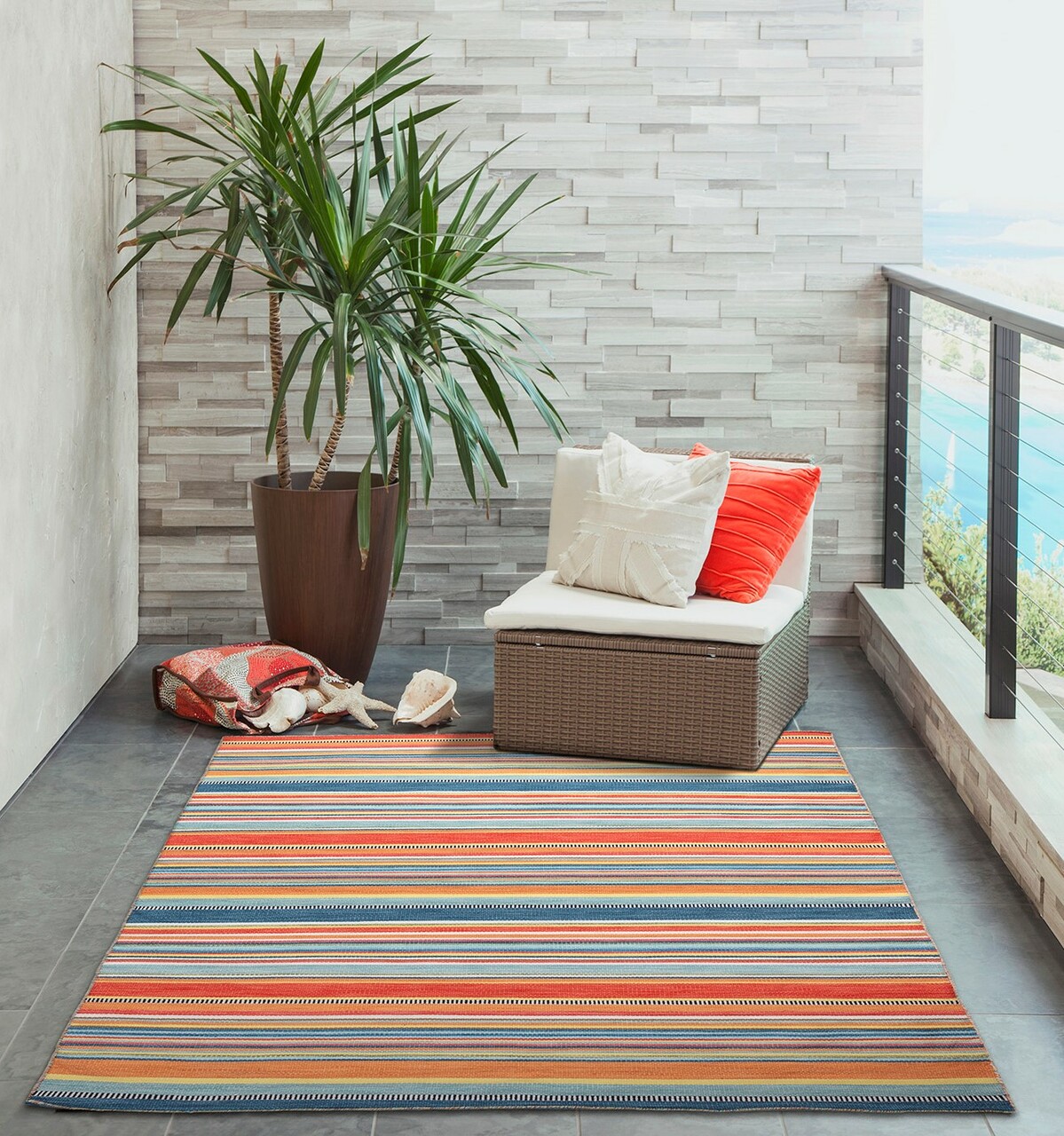 More Ocean Friendly PET Yarn Rugs

5. Expect indoor-outdoor rugs to last five to seven year; shorter in more humid climates or if left in areas where your rug will be constantly exposed to weather year-round. (California or Florida) Help expand their lifespan with the use of an outdoor rug pad and avoid placing rugs directly on wood or cement, which can trap in moisture.
Insider's Tip: Outdoor rug pads are designed not to break down in the elements and allow the rug to breathe, further protecting from mold and mildew.
Indoor-Outdoor area rugs are super versatile - adding pops of coastal color and dimension to any room in your home! Ideal for blurring the lines between inside and out with great durability, easy care instructions, fade resistant materials and many with UV protection.
Ideal for poolside or patio use too. From their seaside styles, to how they make you feel, we think you will love adding an indoor-outdoor rug to your space. Perfect to extend your living area for spring and summer and are sure to be a hit at your next pool party or family barbecue!