10 Favorite "Green" Coastal Decorated Rooms!
Some advice from our design team? Decorating with a coastal or nautical style, does not always have to be aqua or blue. All "blue" can get a little boring after a while! How about adding a shades of green? We've been collecting room ideas for inspiration on our Sea Green Pinterest Board for a long time. We'd love to share Ten of our Favorite Coastal Room images with all kinds of shades of green as the decorating choice.
Take a look!
Number 1:
See what I mean; all soft green shades mixed with vintage nautical neutrals - no glaring navy blue or aqua shades in sight! Both images from House Beautiful's article Inside a Classic Maine Cottage
Don't you just adore that bookshelf with carved sea birds and the basket full of blown light green glass fishing floats?What a wonderful room to dream about your next adventure at sea, or to simply choose your favorite beach novel for an afternoon of cozy reading!
Number 2: Sea Green Glass Lamp, painted sage green hand-rail, matching framed mirror and a pretty green trunk all coordinate to give this entry space a fresh welcoming look. Great idea to add green botanicals to give you home a special touch - and so so easy to do. source: Coastal Living Magazine (P.S. note that the lamp is filled with beach treasures!)
Number 3: Lime Green Stripes! Never boring and a wonderfully fresh spring palette to start with. Only limited by your imagination...Note the vintage basket and lovely green glass bottles too!
Number 4: More lime green with hits of turquoise highlights bring the "zing" to this room with the painted interior of the book shelf. Tropical art, a fantastic sea shell and coral collection with coordinating throw pillows make this room come alive!
(note - the natural elements of shells and a jute rug keep this room from going off the charts)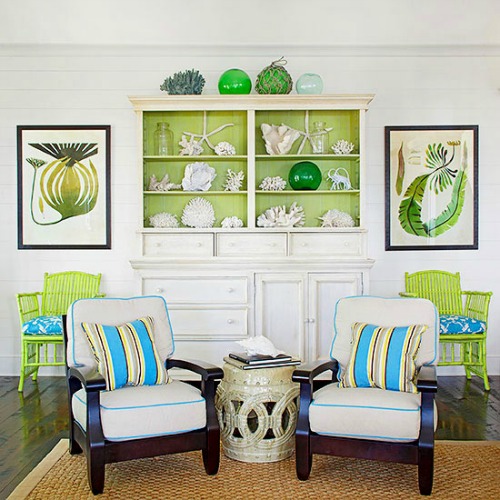 (source - Better Homes and Gardens Mag)

Number 5: Green with tropical designs - drapes in this room, but how about adding just a pop of interesting color with a few new pillows with the same idea? Love those large emerald green glass bottles! We will definitely be looking for something similar to add to our Caron's Beach House catalog this spring....

Number 6: More gorgeous green glass fishing floats! Love how green and turquoise just naturally blend together to create some gorgeousness in a room. The large globe is just the right touch to finish this bookcase
source - Coastal Living
Number 7: From Elle Decor - I want to be brave enough one day to try this bright green wall idea! This room, with the fun gallery wall art wall just makes me smile. What do you think? Could you be brave and paint a wall this color?
Number 8: Mint Green Walls, combined with sailing models and vintage-like black and white framed nautical imaged art and found seashell treasures. What is not to love about this inviting beach cottage dining room?
Number 9: Or maybe just a small corner office if you don't want to go all the way green! Love this little tropical vignette corner carved out for a special enchanting desk and accessories. Check out the gold coral drawer pulls! From apartmenttherapy.com
Number 10: Soft green stripes, but this time mixed with a little aqua too! Doesn't this coastal dining room, just say "Spring" and "Come on Over" for a dinner party? Sigh... a lovely room for a sunset! Source: MyHomeIdeas.com
Happy St. Patrick's Day Everyone!